A very strong first quarter for the DRAM industry has iSuppli Corp. wondering if 2010 may be the greatest year for the memory technology in its history.
Revenue for the DRAM industry in the first quarter reached $9.5 billion, exceeding iSuppli's forecast of $8.6 billion. This not only continued DRAM memory's continued run of sequential revenue increases, it was also the third highest quarterly revenue for a first-quarter period since 1999.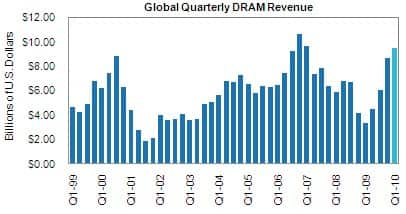 A Great Year Ahead?
Such a great first quarter for DRAM revenue raises the question as to how well the memory will perform for all of 2010. iSuppli now predicts global DRAM revenue in 2010 will amount to nearly $40 billion, up 76 percent from $22.7 billion in 2009. Not only will this put global DRAM revenue within striking distance of an all-time high, $40.8 billion in 1995, it also will represent the strongest year of revenue growth since 1994 when revenue increased 78 percent. However, revenue could grow even more in 2010 than it did in 2000 due to several factors, including:
Average Selling Prices (ASPs) are continuing their upward momentum, with many parts on allocation.

Second-half demand promises to be even more robust than the first-half of 2010 given the back-to-school and holiday season.

 

Supply growth for the year will be held in check. 

 
As a result, the DRAM market may be headed for growth—the likes of which it hasn't seen in 15 years. iSuppli was already predicting a great year ahead for DRAM in 2010. Now the question is, will this year be the greatest yet ever for the memory technology? Time will tell.