Samsung Electronics Co. Ltd. and Hynix Semiconductor Inc. in the first quarter of 2010 together owned more than 50 percent of the fast-expanding DRAM market, but the explosive growth enjoyed by the South Korean titans and many other companies over the last several quarters is not likely to continue, according to iSuppli Corp.
With 33 percent share, Samsung retained its No. 1 position in the market. Samsung's DRAM revenue in the first quarter of 2010 amounted to $3.07 billion, up 10.0 percent from $2.79 billion in the fourth quarter of 2009, and up a massive 169.3 percent from year-ago revenue of $1.14 billion.
In second place was Hynix, with revenue for the comparable period reaching $2.05 billion, up 8.5 percent from $1.89 billion.  The company's revenue for the first quarter of 2010 also reflects a spectacular 188.7 percent leap from a mere $716 million during the same time a year ago in 2009.
With market share for Hynix standing at 22 percent, the two top players in the DRAM market enjoyed a combined share of 55 percent, iSuppli figures show.
The rest of the Top 5 included Japanese-based Elpida Memory Inc., with a 17 percent market share; Micron Technology of the United States, with a 15 percent share and Powerchip Semiconductor from Taiwan, with a 5 percent market share.
As the big mover of the quarter, Powerchip grew an astounding 1,068 percent from a year earlier, soaring from just $37 million in the first quarter of 2009 to $432 million a year later. In fact, revenue for Powerchip has increased nearly 60 percent during each of the last three quarters.
The company continues to compete head to head with Nanya Technology Corp., another Taiwanese firm. Between Nanya and Powerchip, the battle for fifth place has switched back and forth a number of times, with Nanya prevailing in 9 out of 13 quarters. Nanya, however, fell to No. 6 in the first quarter of 2010 and had roughly 4 percent market share.
All told, the Top 6 DRAM players accounted for a whopping 96 percent of the market.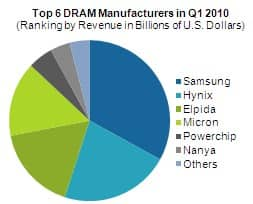 Running out of Steam?
With the last three quarters in 2009 seeing DRAM bit growth of between 12 percent and 18 percent, it is unlikely that an expansion of such scale will extend for more than one quarter in 2010, iSuppli believes. Not only are Average Selling Prices (ASP) losing some of the steam that lifted up prices so rapidly last year, but the low bit growth of 2009 at the height of the economic slowdown is now a thing of the past—a phenomenon unlikely to be repeated this year, iSuppli believes.
Nonetheless, iSuppli does not anticipate any major upheavals in the market, and the top players should continue to hold sway over the market. No manufacturer has significant new capacity coming online except for Samsung, whose moves will only further cement its position at the summit. With capital expenditures in the memory market north of $7.8 billion, Samsung will far outspend its competitors, many of which appear reluctant to commit to any rapid additional spending.
Beyond 2010, however, the DRAM landscape looks less certain, iSuppli projects, and capital expenditure decisions made in the next six months will have a significant impact in 2011 and 2012.
Read More, Powerchip Flexes Muscle, but Samsung Remains No. 1 >