Unofficial reports of a new tablet device being readied by Amazon to go head to head with the iPad from Apple Inc. bodes nothing but good news for the dynamic random access memory (DRAM) market, already projected to see a whopping 795 percent increase in demand from tablets in 2011, according to new IHS iSuppli research.
Tablet DRAM demand this year is anticipated to reach 333.7 million gigabits, up almost ninefold from 37.3 million gigabits in 2010. Like its other high-performing cousin the smart phone, tablets will gain increasing prominence in the DRAM market, and the two devices together this year will outship PCs—originally the DRAM market's strongest customer—by some 50 million units, IHS iSuppli research shows.
With no signs of a letup or slowdown, tablet DRAM demand will vault to 1.1 billion gigabits in 2012 and continue to climb by leaps and bounds during the next four years, reaching 5.8 billion gigabits by 2015.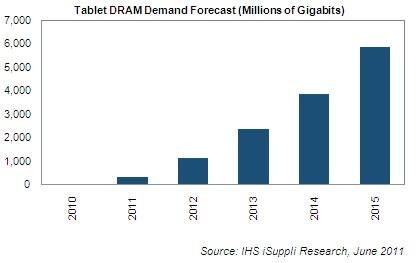 For the iPad, which has single-handedly dominated the tablet market since its introduction last year, a new competitive tablet device from bookselling and retail giant Amazon could yet be its most serious challenge. Many quarters believe that like Apple's iTunes store, an Amazon store with a broad range of content—including music, digital games, movies, TV shows, books and Android apps—will be available to users of an Amazon tablet from day one or the time of launch.
Already, competition to the iPad is seeping through the sidelines in the form of rival devices like the Galaxy Tab from Samsung Electronics, the Xoom from Motorola Inc., the PlayBook from Research In Motion Ltd. and the TouchPad from Hewlett-Packard Co. None of the recent entrants have seriously endangered the iPad, but a new tablet device from Amazon could put into play a much more interesting dynamic for the entire tablet market, IHS believes.
And while no specs have yet been announced for an Amazon tablet, Amazon's aptitude for offering a satisfactory customer experience is well known. In this case, an Amazon tablet will compete on experience—not necessarily on hardware specs.
The connection between tablet sales and DRAM is simple: more tablet sales equals more DRAM demand. With DRAM content in the Amazon tablet expected to be robust—estimated to be 4 gigabits per device, similar to the iPad 2—tablet DRAM demand is likely to remain one bright spot for the memory industry in the years ahead. Tablet shipments this year are projected to reach 63.2 million units, up from 17.5 million in 2010, and hit 113.9 million units next year. 
Read More > The Coming Launch of the Amazon Tablet and DRAM's Role