The market for dynamic random access memory (DRAM) modules, enjoying a spillover in success from a banner 2010, is headed for yet another year of double-digit growth in 2011 as DRAM module shipments bound up 10.8 percent, according to new IHS iSuppli research.
Shipments of DRAM modules—packages containing DRAM chips for use in PCs and other electronic products—are projected to reach 812.8 million units in 2011, up from 733.2 million last year. Growth in 2011 for DRAM modules will be slightly down from the 14.6 percent expansion last year, but it will be ahead of the market's performance in the next four years.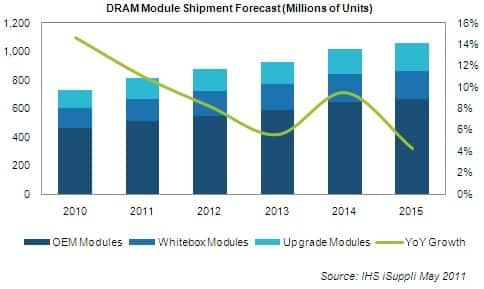 With the worst of the recession behind, DRAM module makers have played their hand expertly during the strengthening global economic recovery, IHS iSuppli research indicates, coinciding with strong DRAM chip and module prices. And despite continual shocks throughout many industries last year, DRAM module shipments have not stopped growing. In particular, consumers are becoming more comfortable in replacing old PCs or upgrading current models, prompting growth of the DRAM module market.
This year a full 63 percent of DRAM modules, equivalent to 510.4 million units, will derive from original equipment manufacturers such as Samsung Electronics Co. Ltd.—entities that not only make DRAM modules for use in their own products  but also sell to other computer manufacturers. The second largest group, 19 percent or 155 million units, will be white-box DRAM modules from third-party suppliers that sell to companies like Dell Inc., which then integrates the memory packages into its computers and other products. The remaining 18 percent of the DRAM module market in 2011, equivalent to 147.3 million units, will come in the form of upgrade modules, sold also by third-party suppliers into the retail channel.  
When added together, both white-box and upgrade modules constitute the third-party DRAM module market, valued at $10.6 billion in 2010. The biggest third-party DRAM module maker last year was Kingston Technology, which enjoyed revenue of $4.9 billion—nearly half of the entire third-party market. 
Among all channels, double data rate 3 (DDR3) remains the dominant technology. While the older and slower DDR2 ruled the module landscape from 2006 to 2009, DDR3 has now taken over and likely will remain at the top for a longer period of time lasting about five years. The next-generation DDR4, whose standards have not been finalized, is expected to become the major DRAM module density in the second quarter of 2015.
DRAM Content in PCs to Rise
While average DRAM content in PCs has been steadily on the rise, strong pricing in mid-2010 resulted in a rare decline in DRAM megabytes for computers. But despite the slight drop in overall PC DRAM content, average module content still rose and avoided a fall. In a hypothetical example, PCs in an earlier period might have shipped out with 4 gigabytes (GB) of DRAM configured as 4 modules of 1 GB each, while a later period might have seen the same PCs shipping out with 2 GB of DRAM configured as a single module of 2 GBs. In such an example, PC DRAM usage decreased but average module DRAM grew.
As a result, annualized growth of DRAM content in PCs was down in 2010 to 24 percent—a low number when considered against the historic yearly expansion of DRAM in the 30 percent range. With ASPs continuing to decline, however, DRAM densities are projected to climb in the next five years including 2011—good news not only for module manufacturers hoping to see greater growth, but also for consumers standing to reap benefits from increased DRAM densities at lower prices.
This year alone will see a 30 percent increase in average DRAM content for PCs, to be followed by a 36 percent growth in 2012. Average DRAM content this year will rise steadily every quarter, mounting from 3.7 GB in the first quarter to 4.69 GB in the fourth. Next year, DRAM density in PCs will start on average at the 5-GB level. 
Read More > Modules Look to Keep Strutting from One Year to the Next