The success of Apple Inc.'s iPad has resurrected the tablet PC, with competitors now racing to develop challengers. However, the iPad has also made a serious dent in the eBook reader market now dominated by Amazon's Kindle and Barnes & Noble's Nook, according to the market research firm iSuppli Corp. 
The appeal of the iPad and other slates lies in their extensive media functionality. However, the iPad's capability to read eBooks has garnered what Apple claims to be a 20 percent share of the eReader segment in less than four months on the market.
In response, Barnes & Noble, Amazon and Sony Corp. have dramatically lowered the prices for their eReaders. This worked in the short term as Amazon claims to have tripled the Kindle shipment growth rate year-over-year. But in the long term, the limited capabilities of these eReaders make them much more vulnerable to competing form factors, and even price cuts won't be able to ultimately make up for an overall transition in technology.
This does not mean eBook readers will disappear. In fact, iSuppli forecasts eBook reader shipments will grow to 26.5 million units by 2014, managing a Compound Annual Growth Rate (CAGR) of 39.6 percent, up from just 5 million units in 2009.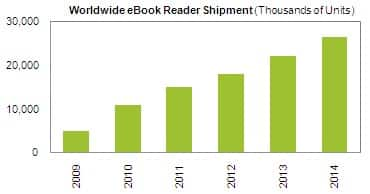 Goodbye Hardware
Over the long term, the iPad and competing products will enjoy higher sales and superior margins relative to eReaders, iPad research from iSuppli indicates Such a prospect raises the question as to whether it makes business sense for eReader manufacturers to leave the hardware space and focus strictly on content. 
As a case in point, the video game console business has proven that it is possible to lose money on hardware and still achieve profits through the sales of content such as game titles. The result, however, may not be the same for eBooks readers, which are decidedly different from games.
Three Options
The future of eReaders appears, then, to be in doubt. Although Amazon is selling its new Kindle at $139, cutting prices is not a sustainable strategy for this business. It's true that a slew of tablets will soon be released and that publishers are preparing tablet versions of magazines, newspapers and more. eReaders, unable to display vivid color and utilizing expensive E-Ink displays,  are at a significant disadvantage.
iSuppli sees three options for hardware manufacturers in the eReader space by which they possibly could emerge from the current strictures. One is the expensive road that leads to convergence with tablets. A second option would allow other companies to develop no-frills reading devices with minimal memory content at low price points. The third option is for vendors to step away from the hardware side altogether and focus instead on apps and content.
Regardless of whichever option they take, eReader manufacturers are chasing an ever-smaller pie. In their current incarnation, eReaders simply have little chance of competing with tablets in the long run. .
Read More > Tablets Nipping eReaders in the e-Bud