The second quarter of 2010 was awesome for DRAM, with global revenue soaring to $10.8 billion on the strength of 5 percent bit growth and 9 percent Average Selling Price (ASP) appreciation, according to memory market research fi rm iSuppli Corp.
DRAM revenue was up from the already impressive first quarter of 2010, when DRAM revenue hit $9.4 billion. The market more than doubled from the second quarter of 2009, when revenue amounted to $4.5 billion.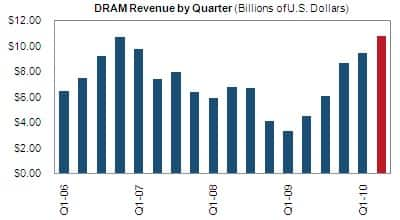 Together, the first two quarters of 2010 have accounted for nearly $20.1 billion in revenue. While this is impressive on paper, the feat is even more remarkable when one looks at the entire year of 2009, with revenue amounting to only $22.7 billion.
Meanwhile, estimated unit shipments in the second quarter when normalized to the 1Gbit-equivalent density came in at 3.6 billion devices. The Average Selling Price (ASP) for the industry was an impressive $3.03 per gigabit. All of this equates to a second quarter in 2010 that was better than an already stellar first quarter of the year.
Samsung Stays Ahead
The second quarter was especially good for Samsung Electronics Co. Ltd., which continued to pad its dominant position in the DRAM industry. Samsung generated $3.8 billion in DRAM technology sales in the second quarter on estimated unit shipments of 1.2 billion, more than doubling its revenue from $1.5 billion in the second quarter of 2009. This resulted in the company garnering a 35.2 percent market share in the second quarter of 2010, up from 32.6 percent in the first quarter.
Samsung's aggressive push into 40nm semiconductor lithography has clear helped the company boost its bit shipments, while its balanced product portfolio helped in achieving better-than-average ASPs.
Other Memory Vendors Improve
Trailing Samsung in the No. 2 position was Hynix Semiconductor Inc., which also had a tremendous second quarter earning $2.3 billion, up more than double year-on-year from $980 million in the second quarter of 2009. The growth of Hynix allowed the company to garner 21.5 percent DRAM market share, virtually identical to its market share in the first quarter of 2010, semiconductor market research from iSuppli indicates.
Elpida Memory in the second quarter remained in third place, garnering $1.9 billion in revenue for a 17.7 percent market share among DRAM manufacturers. The company's revenue was up from $1.6 billion in the first quarter of 2010, memory pricing and forecasts show, and was far more than the $745 million in revenue generated in the second quarter of 2009.
The other DRAM companies in the Top 10, except Powerchip, had similar results, showing improvements during their first-quarter revenues and huge leaps from the same quarter in the previous year.
These types of numbers continue to back iSuppli's assertion that 2010 will be a banner year for DRAM. .
Read More > DRAM Market Surges in Q2; Samsung Boosts its Top Spot