Battered by various factors including the rising sales of tablet devices, the hard disk drive (HDD) market for computers will slow in 2011, with revenue growth this year 3 percentage points lower than in 2010, according to new research from IHS iSuppli.
Revenue for computer HDDs, including drives for PCs and corporate or storage servers, is projected in 2011 to reach $28.1 billion. But while this is 4.1 percent higher than the $27.0 billion of 2010, the anticipated HDD growth this year almost halves the 7.0 percent expansion posted by the industry last year. And except for a growth spike in 2013 that will result in a 4.5 percent increase of the market, HDD revenue will continue to show ever-smaller increments of growth in the years to come—slipping to a 3.9 percent expansion in 2012, 2.8 percent in 2014 and 2.1 percent in 2015.
The five-year compound annual growth rate for computer HDD revenue will stand at 3.5 percent by the end of 2015, when revenue is expected to reach $32.1 billion.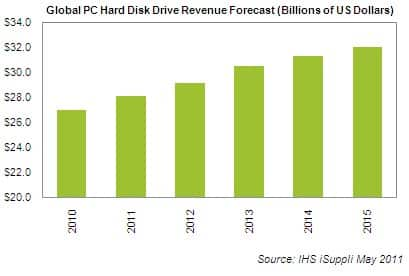 As the traditional media for data storage, HDDs continue to command a vast user base in both the consumer and enterprise segments. Nonetheless, the share of HDDs in the overall storage space has eroded in recent times because of competition from other forms of storage media and assorted market forces.
On one front, rival storage such as flash and solid state drives have eaten into traditional HDD strongholds, showing up in devices like lightweight notebook computers, smart phones and tablet devices. More important, the hegemony of PCs has been usurped as consumers increasingly use tablet devices and smart phones to browse the Internet, download and stream video, and share content. Tablets, in particular, have taken away large chunks of the personal PC market by gobbling up consumer dollars originally intended for laptops and netbook computers—translating into lost sales for the HDD industry as a result.    
On another front, HDD revenue growth has slowed as manufacturers introduced lower-priced drives with higher area densities—the upshot of constantly improving and evolving technology becoming more affordable over time. 
A third factor that has slowed HDD growth is more efficient cloud storage. As consumers and corporate entities replace local storage and look to the cloud—where data is stored through networks, either privately or publicly—HDD makers lose another important piece of their market.
Q2 HDD Revenue Up Slightly
HDD revenue for computers in the second quarter of 2011 is projected to reach approximately $6.9 billion, IHS iSuppli research indicates. Depending on economic conditions, revenue during the period could be up 2 percent from the first quarter, unlike last year when the second quarter lost momentum after the first.
Nonetheless, the HDD space continues to suffer cannibalization from tablet devices as well as other market-stifling factors, including excess inventory due to weak demand as well as worries on component shortages stemming from the Japan quake disaster in March.
The one bright spot during this period remains the strong orders from the enterprise segment, driven by increasing demand for corporate PCs, server and storage virtualization, and the building of a cloud-based infrastructure by corporations.
Optical Disk Market is Down
Like the HDD space, the optical disk drive (ODD) market for computers will rise by approximately 2 percent in the second quarter this year to $3.0 billion. Although they are an integral part of standalone consumer appliances such as players and recorders for DVDs, Blu-ray discs and compact discs, ODDs for computers will suffer a revenue decline to $12.2 billion in 2011, down from $12.7 billion last year. In the wake of tight supplies of components like ODD controllers following the Japan disaster, sales volumes for ODDs are projected to be low for the short term.
Moving forward, the computer ODD market will continue to decline as less content is distributed via compact discs and as content is made available instead for downloading online. Moreover, industrial designs are becoming slimmer and more mobile, hindering the easy integration of ODDs.
All told, the five-year compound annual growth rate for computer ODDs will be flat at the end of 2015, by which time ODD industry revenue will have reached $12.7 billion, figures show.
Read More > Hard Disk Drive and Optical Disk Drive Markets Experience Growing Pains