Active matrix organic light-emitting diode (AMOLED) is rapidly becoming a popular display for smart phones, causing global AMOLED unit shipments to expand by nearly a factor of six from 2010 to 2015. 
AMOLEDs are enjoying rising usage in smart phones because of their wider viewing angle, higher refresh rates and thinner formats, compared to conventional liquid crystal displays (LCDs) used in most cell phones. The adoption of AMOLEDs also is being propelled by increasing manufacturing capacity from leading supplier Samsung Mobile Display.
As a result of these trends, global unit shipments of AMOLEDs will soar to 271.2 million units in 2015, rising at a 40.6 percent compound annual growth rate (CAGR) from 49.2 million units in 2010. AMOLED revenue is set to expand to $3.6 billion in 2015, expanding at a CAGR of 31.9 percent from $892.1 million in 2010.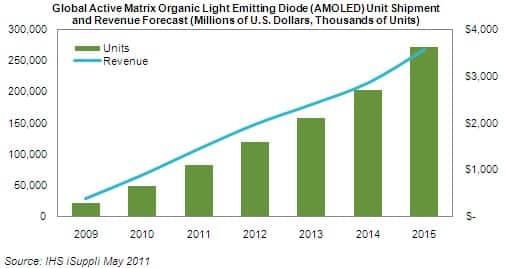 The growth of AMOLED shipments and revenue is being fueled by the expansion of the smart phone market. Shipments of low-end smart phones will rise at a CAGR of 81.1 percent from 2010 to 2015. Meanwhile, mid- to high-end smart phone shipments will expand at a CAGR of 15.1 percent during the same period.
Challenges Remain
While the benefits to AMOLEDs are clear, challenges still remain. AMOLED displays are currently 30 percent to 60 percent more costly to manufacture than equivalent low-temperature polysilicon (LTPS) LCD displays.
AMOLED manufacturing currently requires processes that make it expensive. In particular is the use of LTPS backplanes that require laser annealing. Thus, this part of the manufacturing process starts with the costs of standard LCD, and then adds an expensive, time-consuming process that cannot currently be used on large-area glass substrates. 
However, Samsung's and the industry's first 5.5-generation (5.5G) AMOLED line, set to begin operation during the second quarter, likely will bring improved efficiency that will help produce AMOLEDs at an equivalent cost as LCDs. At the 5.5G level, the large scale of production of thin film transistor arrays will spur reductions in production cost for OLED panels.
Another challenge for AMOLED is that screens using the technology suffer from reduced visibility in direct sunlight. However, Samsung has addressed this issue by reducing the space between the layers within its AMOLED display.
The organic materials used in AMOLED displays are prone to a decline in performance over the life of the display. However, material life time has improved significantly. Continued efforts among material companies and display suppliers will help further improve the lifetime of AMOLEDs.
Finally, it is still a challenge for AMOLEDs to achieve high resolution comparable to LTPS LCDs. So far, SMD has used sub-pixel rendering to drive high-pixel formats. But this area still remains a challenge to be addressed.
Samsung is Committed
Samsung has led the charge in AMOLED manufacturing and will continue its commitment to the technology with an investment of $4.8 billion into its next-generation 5.5G, or 1,300 millimeter by 1,500 millimeter, AMOLED fab. This first stage of production will turn out 24,000 substrates per month from Samsung's Tangjeong facility.
Samsung has discussed up to three increments of 5.5G capacity and about 70,000 in monthly capacity, which would boost its AMOLED output capacity from its 2010 levels of about 3 million per month to more than 8 million panels per month total of 4-inch equivalent displays per month by the end of 2011. A second fab line with the same capacity is scheduled to commence mass production in early 2012—likely in the first quarter—which will significantly increase overall AMOLED supply.
Moreover, 5.5G lines have the potential to transition to the production of larger displays for applications like televisions. With the shortage of AMOLEDs for smart phones, it is anticipated that Samsung will concentrate on small-and-medium sized AMOLED displays with these two Gen 5.5 lines. Samsung has announced its intent to manufacture 7-inch Galaxy tablet panels using AMOLED. Given the current strong demand for smart phones, it is unlikely that volume production of tablet panels will start before 2013.
Other suppliers are looking at AMOLED capacity installation and expansion as well. However, none of these other suppliers are as aggressive in their investment as Samsung. AUO and CMI, both in Taiwan, have announced their intentions to mass-produce AMOLED panels by the end of 2011. For its part, AUO needs to install equipment that will convert its Singapore LTPS lines so that they can produce small-sized AMOLED displays.
Moreover, significant AMOLED panel investments are being made in China. With heavy support from the Chinese government, IRICO is aggressively investing into the installation of G4.5 AMOLED equipment. Tianma is also looking at mass-producing AMOLED.
Overall however, AMOLED manufacturing remains very difficult, especially when it comes to improving yield rates in processes required to ramp up volume production. 
Read More > OLED Market: Industry Impact Following Japan's Recent Disasters