The collective operating margin for the photovoltaic (PV) industry will range between 15 to 19 percent during each quarter of 2011, reflecting healthy profits for companies in the face of higher solar prices as well as capacity constraints that are serving to limit wafer supplies, new IHS iSuppli research indicates.
With PV demand remaining strong this year, the boon for solar will be felt throughout the industry, including the three main PV sectors of polysilicon and wafers, cells and modules, and integrated crystalline silicon. However, the benefits will not be spread evenly throughout the supply chain, with polysilicon and wafers achieving the largest increase in operating margin as companies in that segment enjoy the benefit of elevated wafer prices.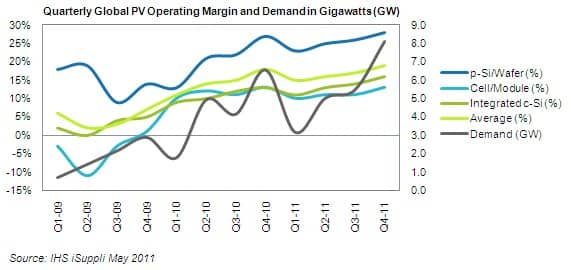 Operating margins will reach 16 percent in the second quarter, up 1 percentage point sequentially from the previous period. Margins then will inch up to 17 percent in the third quarter and finish at 19 percent in the fourth quarter of 2011. Demand for PV installations will average between 3.18 gigawatts (GW) in the first quarter to 8.1 GW in the final quarter of the year. 
The healthy operating margins this year extend a winning streak that started in 2010, when many players achieved the scale necessary to remain profitable. Operating margins are also much higher than in 2009, when margins averaged in the 2 to 7 percent range, following the economic recession.
On the Margins
In polysilicon, suppliers this year will continue to benefit from their long-term contracts with both ingot and wafer companies. Given the moderate takedown rates in place and a solid demand outlook, no pushback is expected from appreciative customers likely to accept whatever they can obtain from a constrained market, IHS believes.
To be sure, wafer suppliers will have more orders than they can handle throughout the year as capacity constraints remain in place. And given the relative scarcity of supply, a price reduction of only 6 percent for  
solar wafers is expected in the merchant market for 2011, with spot prices remaining significantly above blended average street prices. Operating margins in the polysilicon and wafer space will grow on average from 23 percent in the first quarter to a record 28 percent by the last quarter of the year. 
For cell and module suppliers, operating margins will improve moderately, reaching 10 to 13 percent in 2011. Efforts by suppliers in this area to reduce costs will be limited by wafer prices declining much less than the 14 percent reduction expected at the module level, IHS iSuppli research indicates.
Finally, integrated crystalline silicon players that have been investing heavily in capacity expansion at the wafer level will be a step ahead of companies in the pure cell module space. Operating margins for the integrated players will be slightly higher than in cells and modules, at 11 to 16 percent, but significantly less than polysilicon and wafers. Heavily invested integrated players include major PV manufacturer Yingli from China, as well as wafer newcomer Suntech Power, also from China and the world's largest producer of solar panels.
The Japan Crisis and its Effect on Nuclear Power and Solar Prospects in China
The Japan nuclear crisis during the quake and tsunami disaster has helped to increase awareness toward nuclear safety in China, with current nuclear power projects in the country under review.
Nonetheless, PV capacity is unlikely to be much impacted in the near term for various reasons, including the strong support for nuclear power espoused by the Chinese state-run National Energy Commission, weak opposition to nuclear and the high cost of solar energy in the country.
At present China has six nuclear power plants outfitted with 13 reactors, totaling some 10.8 GW in capacity. An additional 12 nuclear power plants with 28 reactors are under construction, with total capacity amounting to
30.9 GW. Also in the pipeline after receiving initial approval for construction are 25 nuclear power plants with dozens of reactors. According to the government's 12th Five-Year Plan from 2011 to 2015, 40 GW worth of nuclear energy will be built, equivalent to some 40 nuclear reactors being added during this period.
In the short term from two to five years, the PV space in China could benefit if Beijing speeds up the release of a feed-in tariff (FIT) and allocates a greater percentage of planned electricity generation to solar. For the longer term, PV could gain headway if some planned nuclear capacity were canceled or if transferring nuclear energy to a safer area might entail higher costs that make PV more attractive by comparison.
Solar energy in China faces an uphill battle, however, IHS believes. Many provincial governments in China continue to be enamored of nuclear power technology, and any plans to slow down nuclear power for the country will meet with resistance and difficulty, especially when China's tremendous need for power is taken into consideration.
Moreover, no actual FIT policy has been determined yet, and the Chinese government's study and assessment of PV is only in its second year. Initial investment costs for PV systems at present remain too high, with ground-mounted system costs in the region of $2.50 per watt.
Read More > PV Profi ts Expected to Rise in 2011