Weak consumer demand for televisions, desktop computer monitors and notebook PCs in the fi rst quarter will cause unit shipment growth in the global market for large-sized liquid crystal display (LCD) panels to decelerate in 2011 compared to 2010 and 2009, new IHS iSuppli research indicates.
Worldwide shipments for large-sized LCD panels will expand by only 14 percent in 2011, compared to 23.4 percent in 2010, and 20.8 percent in 2009. Unit shipments this year will amount to 740 million, up from 649.3 million in 2010.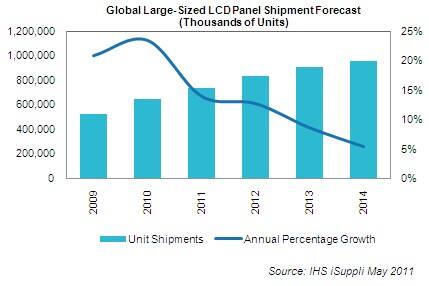 The first quarter of 2011 will be the weakest part of the year, with shipments declining by 9.2 percent compared to the fourth quarter of 2010, and decreasing 0.8 percent from the first quarter of 2010. While the first quarter is typically the weakest period of the year for the large-sized LCD panel as demand dips following the peak holiday selling season, the slowdown in 2011 is particularly pronounced compared to 2010.
The sharp sequential drop in shipments in the first quarter was spurred by slow sales of the three major products that use large-sized LCDs: televisions, monitors and notebook PCs. Consumer spending on such items has stalled on account of the sluggish pace of economic recovery. And while demand is starting to recover in the second quarter, the rebound will not progress quickly enough to generate the level of annual growth seen in recent years.
Supply-Side Struggles
Exacerbating the slow consumer demand, shipments in the first quarter were further reduced by efforts to clip inventories by branded vendors. Starting in December, when demand started to decline following the holiday buying season, branded vendors started an inventory correction, decreasing panel orders to clear out stockpiles.  
This contributed to sequential decreases in panel shipments in January and February and forced panel suppliers to cut production.
Average LCD prices declined throughout the first quarter, especially for television panels. Most panel suppliers reported financial losses in the first quarter.
The utilization rate for large-sized LCD fabs in March was reported at only 80.9 percent, lower than the 85.8 percent seen in January. February posted a rate of only 78.4 percent, but production during that month is generally low due to the shorter month and the lunar holidays in Asia. In light of several television panel order cuts and weak panel prices, the majority of panel suppliers decreased their fab utilization ratio in order to reduce the inventory burden.
U.S. and Europe See Slow Television Sales
Both the United States and Europe experienced slow television sales in the first quarter. Consumer demand in the regions has not been stimulated by recent price declines.
New television demand mostly is coming from emerging economies. However, even sales in these areas could be threatened by high oil prices and high inflation rates.
Given these developments, most television brands are concerned about 2011 demand and are starting to cut their sales targets for this year. 
Meanwhile, notebook demand has been diminished by the rising sales of tablets. Furthermore, the CRT replacement cycle in the desktop PC monitor market has finished, causing sales of LCD panels to this segment to slow. Suppliers are hoping some demand may be driven by the replacement of monitors employing cold cathode fluorescent lamp (CCFL) backlight with new LED-backlit monitors.
Recovery Commences
Panel demand started to recover in March as branded vendors started to buy panels for inventory replenishment. Also, because of concerns about component shortages resulting from the Japan earthquake, some television brands in the second quarter began to pull in panel orders early to reduce the risk of supply chain disruptions.
As IT panel pricing is seeing some improvements, panel suppliers are increasing the utilization ratio at Gen 5 and Gen 6 fabs. Meanwhile, fab utilization at Gen 8 and above remains low. Panel production is expected to increase further in May due to improved demand, as branded vendors pull in orders to reduce the impact of component supply shortages.
Unit shipments in the second quarter are expected to rise by 12.1 percent, with some brands expected to pull in back-to-school panel demand for notebooks and desktop PC monitors for early preparation in the second quarter. And although end-market demand is still not that strong, branded vendors have begun to buy more panels.
Panel inventory at branded vendors is estimated to be healthy, with TV panel buyers—especially those in China—starting to buy panels again.
Read More > Monitor Panel Prices Witness Slight Increase