NanyaTechnology's recent announcement it would raise 700 million new shares shows that the company remains successful in crucial fundraising activities as it wends through a highly uncertain path in Taiwan's dynamic random access memory (DRAM) business, according to new IHS iSuppli research.
In the last five years, Nanya has raised some $170.2 billion Taiwanese dollars—equivalent to US$5.8 billion—in equity and bond issues, as well as loans used mainly to fund capital expenditures, dwarfing similar efforts from other Taiwanese DRAM companies such as Powerchip and ProMOS. In comparison, fundraising from Powerchip totaled $3.3 billion during the same 2006-2011 period, while ProMOS saw funds hit $2.6 billion.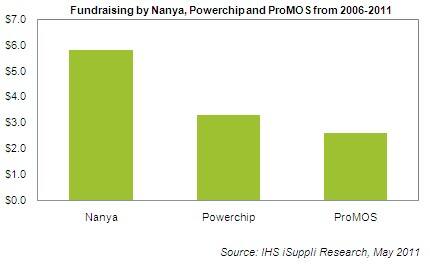 Although Nanya has not decided on a price for the new shares, the share issue, if computed at the current share price of $0.53, should raise some $370 million—a not insignificant amount especially when considering that Taiwanese DRAM companies have been unable to recover as quickly as their global counterparts in the business, such as their South Korean competitors, ever since the DRAM downturn hit in 2008, IHS iSuppli research indicates.
For Taiwanese companies, the 2008 slump at the beginning of the great recession proved particularly hard on the balance sheet of Taiwan's highly indebted DRAM companies, and the fundraising that most Taiwanese DRAM suppliers have been able to conduct since then were basically stop-loss measures intended to repay debts that were coming due.
With the current downturn in DRAM coming so soon—average selling prices are down dramatically—after the 2008 fall, cash balances have not had the chance to sufficiently recover. As a result, most companies are finding themselves in the tough position of having to delay their technology transitions due to a shortage in cash.  
Here is where Nanya is proving an exception to the rule. Exemplified by its current round of funding, Nanya does not face the same constraints as its Taiwanese peers, allowing the lucky company a chance to break free of the financial morass holding down Taiwan's other DRAM players, IHS believes. While Nanya has been able to raise $3 billion since 2009, Powerchip has managed only $204 million, and ProMOS slightly better with $273 million. Given the lack of funding, Powerchip and ProMOS have seen their capital expenditure budgets drop significantly in recent years, totaling a combined $460 million for the two companies in 2011—compared to $408 million for Nanya alone.
Nanya owes its good fortune in large part to parent company Formosa Plastics Group, which has stepped in numerous times to bail out Nanya during times of financial distress. At present, the Formosa Group holds more than a 60 percent stake in Nanya, and Formosa in November 2010 supported a Nanya share issue that raised approximately $340 million—despite the fact that the Nanya stock price had fallen below the issue price at that time.
In addition to equity purchases, Nanya has been able to rely on its parent company's deep pockets for loans in 2010 totaling $750 million, in order to fund equipment purchases for its DRAM transition to 50-nanometer and 42-nanometer technology.
Read More > New Share Issue Proves Nanya Plays by Different Set of Rules