The recent buyout by leading storage maker Seagate Technology of Samsung Technology's hard disk drive (HDD) business will considerably boost the newly merged entity's overall standing, with combined shipments accounting for two-fifths of an HDD market worth 652.4 million units in 2010, according to IHS iSuppli research.  
Based on final year-end figures from 2010, HDD shipments tallied from both Seagate and Samsung equated to 261.2 million units—enough to give the Seagate-Samsung combo 40 percent of the HDD market, or a No. 2 finish for the year. Separately, Seagate's shipment share in 2010 showed 195.2 million units, while Samsung's HDD business brought in 66.0 million units. Without the merger, Seagate's shipment share of market would have stood at 30 percent, and that of Samsung would have topped out at 10 percent.
Even with the combined shipments, however, Western Digital Corp. retains overall market leadership in hard disk drives, the primary storage medium for desktop PCs and most notebook computers. Only one month prior to the Seagate purchase, Western Digital had made its own acquisition by purchasing Hitachi Global Storage Technologies. Western Digital's shipments of 203.7 million units, together with Hitachi's 115.8 million, coalesced to produce total 2010 shipments of 319.5 million, putting owner Western Digital at No. 1 in the HDD space with 50 percent market share.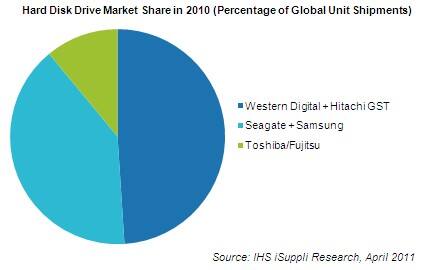 With the completion of the two mergers, the HDD battleground has been effectively leveled to just three players, down from five. Left standing far behind in third place is Toshiba/Fujitsu—itself the eponymous product of a merger in 2009. Toshiba/Fujitsu had shipments in 2010 of 71.7 million units, or 10 percent share of the HDD market.
Overall, the reduction from five to three manufacturers considerably improves the stability and efficiency of the HDD industry, even though the development also signals the recognition by all players of a more challenging future in the storage space, IHS believes.
In particular, the Seagate move appeared to have benefited both buyer and the acquired party.The transaction, valued at $1.38 billion, enhances Seagate's access to Samsung's NAND flash technology and gives Seagate access to Samsung's clients in the Asian market. For Samsung, the acquisition reorients its storage focus on solid state drives, a rival medium to HDD, while freeing the company to allocate resources and develop growth in other segments where the South Korean giant has interests, like the semiconductor chip foundry business.
By obtaining Samsung's HDD business, Seagate also has made great strides in closing the gap with its perennial competitor, Western Digital.
Taken together, the mergers engineered by Seagate and Western Digital will be key to improving sustainability of the HDD industry, IHS believes, demonstrating the industry's nimble response to fast-occurring changes playing out in the storage environment.
Read More > Samsung Steps Away, Leaving a Group of Three