The graphics memory market, a continuing hotbed of competitive activity, faces a changing landscape as preferences shift from dedicated card solutions toward the integration of graphics functions into the Central Processing Unit (CPU) of computers, according to market research firm iSuppli Corp.
A specialty segment of the larger DRAM market, the graphics memory industry is projected to grow only slightly at the beginning of next year, despite its relative insulation from the more disruptive fluctuations of the commodity memory market. Graphics in the first quarter of 2011 will make up 5 percent of the overall market for memory—up from 4.9 percent in the third and fourth quarters of 2010, iSuppli data indicate.
And while it's expected to maintain its course through most of the year, the market will then begin a slight but steady decline starting in the final quarter of 2011. By 2014, the graphic memory segment will have lost another half of a percentage point of the total memory market, accounting for roughly 4.4 percent.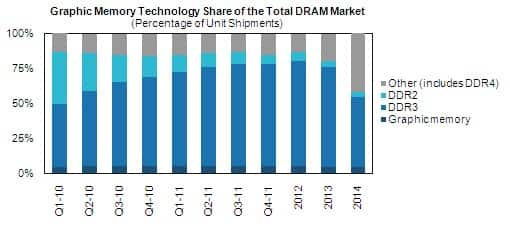 Such figures point to a contentious, muddy outlook about future prospects for the segment. While graphic memory commands a price premium and is more stable in demand compared to commodity DRAM, the market is not projected to grow dramatically in the future, iSuppli research bears out. In the coming years, demand for graphic memory will ease as manufacturing trends favor the integration of the graphic processing unit (GPU)—the microprocessor responsible for rendering 2-D or 3-D images—into a computer's central processing unit.
True, the stunning high-end graphics provided by dedicated video cards still will be needed for immersive gaming and similar activities that require advanced memory and exceptional performance. For all intents and purposes, however, an integrated approach—in which graphic functionality is embedded into a motherboard and utilizes the system memory of a computer—will provide more than adequate performance for the majority of PC users. As a result, the graphics memory market will be impacted, iSuppli warns.
A Remarkable Turn of Events: Moving Away from the Dedicated Approach
The flattening of the graphics segment is surprising, considering the attractive margins enjoyed by the segment and the intense efforts among fierce rivals and major players alike to make their presence felt in the market.
Idaho-based Micron Inc., for instance, has been developing a graphics memory product for some time, hiring key executives from now-bankrupt Qimonda AG of Germany, whose commanding share of market once rivaled that of leader Samsung Electronics. Qimonda's bankruptcy, in turn, has benefited Korean player Hynix Semiconductor, which rushed in to fill the gap and is now Samsung's main contender for hefty spoils.
Another player, Elpida Memory Inc. from Japan, is beginning the production of memory technology specific to graphic cards known as GDDR3 and GDDR5. Elpida's present share of market may be small, but the company's entrance into the segment is likely to shake up things. As additional competitors enter the market, Samsung and Hynix may well be forced to surrender market share to Elpida and other new upstarts.
All told, the graphics market is expected to remain a build-to-order segment, with prices based more on manufacturing costs than overall supply-demand dynamics. And while graphics memory will continue to be demanded by game-console makers and high-end graphics cards, the advent of better-integrated products could likely threaten the GPU market.
In particular, industry players are watching Intel Corp., which next year is releasing the Sandy Bridge platform for integrated graphics, intended to match the performance of low-end discrete graphic cards. Such a move, iSuppli maintains, could further alter the general terrain of the graphic market.
Read More >  DRAM: The Changing Landscape of Graphics Memory