After soaring more than 60 percent in 2010, future spending on capacity expansion in the photovoltaic (PV) market will slow in 2011 as industry production capability catches up to demand, according to new research from IHS iSuppli.
With many solar companies making large capacity increases in 2010, the PV market is still absorbing all of the new capacity. In 2011, capital spending—excluding expenditures on polysilicon—will decline to $10.5 billion, down 6 percent from $11.3 billion in 2010.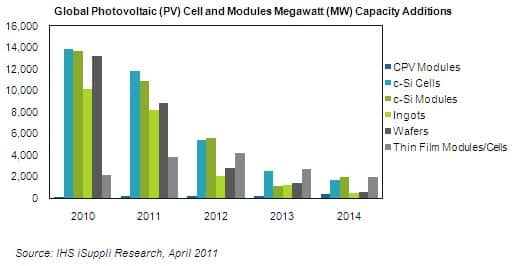 Another reason for the curtailing of spending may be due to the German market. The largest solar market in the world, Germany, is expected to slow significantly in the coming years as feed-in tariffs (FIT) increase and other buyer incentives expire, keeping overall installations more or less flat.
China Driving Spending
From a production perspective, most of the crystalline modules currently come from China. In fact, Chinese solar companies are quickly becoming vertically integrated—including cell production, polysilicon and even installation services, IHS believes.
For 2011, expansion announcements have indicated that close to 11,000 megawatts (MW) in crystalline silicon (c-Si) module capacity is being planned. Nearly 48 percent of growth will come from China Sunergy, Hanwha SolarOne, Jinko Solar, LDK, Phono Solar, REC, Suntech, Trina, Tianwei and Yingli. Eight of the 10 companies are Chinese, accounting for 41 percent of total capacity expansion for the year.  
On the c-Si cell side, IHS sees planned capacity expanding by 11,000 MW also in 2011, official announcements indicate. Accounting for close to 50 percent growth in the space will be Canadian Solar, Hanwha SolarOne, Jain Solar, LDK, Motech, Neo Solar Power, Suniva, Trina, Tianwei and Yingli. Six out of the 10 companies are Chinese, accounting for 38 percent of total c-Si cell capacity growth in 2011.
Meanwhile, Thin Film expansions will continue for 2011 with an expected rate of 3,800 MW. IHS sees Auria, First Solar, QS Solar, Solar Frontier and TSMC accounting for more than 50 percent of growth here.
Read More > c-Si Cells Led in Capital Spending for 2010