Already owning the largest share of the dynamic random access memory (DRAM) market, Samsung Electronics Co. Ltd. also remains in the best competitive position when past, present and future performance are considered, according to the latest IHS iSuppli research.
In a new analysis that takes into consideration four factors—including a DRAM manufacturer's cash balance, cash relative to sales, overall market share and strength of product portfolio—South Korean titan Samsung emerged the winner when the various metrics are combined.
Samsung's cash-to-debt ratio is the highest in the industry, and the company has the strongest product portfolio as well as the highest market share, the findings bear out. As a result, it appears highly unlikely that Samsung's dominance of the DRAM market could be in jeopardy anytime soon, IHS concludes.
Rounding out the Top 5 and following Samsung, in descending order, are U.S. firm Micron Technology Inc. in second place; Hynix Semiconductor Inc., also of South Korea, in third; Elpida Memory Inc. of Japan in fourth; and Winbond Electronics Corp. of Taiwan in fifth.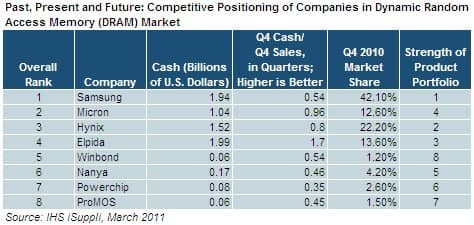 Current Cash; Cash vs. Sales Explained
The first metric of pure cash is a telling indicator because companies able to finance their own capital expenditures enjoy a competitive advantage over those that are unable. The firms with cash, in this case, also happen to be the technology developers: Samsung, Hynix, Elpida and Micron, IHS iSuppli research shows. Those with less than $1 billion in cash represent the "have nots"—including Nanya, whose cash balance was dangerously low in the fourth quarter of 2010, although it had a wealthy parent company in the Formosa Plastics Group.
Cash, however, isn't the only measure to consider, because a large company like Samsung clearly will need more cash to maintain its current market share than a smaller company like Nanya. When considering each company's fourth-quarter cash relative to its DRAM sales, some companies stand out more than others. Under such a metric, Elpida, Micron and Hynix enjoy strong positions, boosting their overall standings. The cash vs. sales metric is also an indication of a company's capability to finance its activities moving forward, IHS believes.  
Past, Present and Future Combined
Aside from a company's balance sheet—a backward-looking metric, as it assesses where a company has been—two other factors are important in measuring DRAM competitiveness. Market share is a good indication of a company's relative competitiveness today, while the strength of a company's portfolio is an excellent pointer to the future of a company and where it might be headed.
Taking the four metrics together explains Micron's relatively strong position in second place just behind Samsung. While the Idaho-based company has the lowest market share among the four technology developers, it has a solid product portfolio and a healthy balance sheet, positioning the firm for future strength. Conversely, Hynix and Elpida suffer from the same ailment—too much debt—which not only will sap future cash flow but also will hinder the capability of both companies to borrow in the future should the need arise.
The four remaining players, each with single-digit market share, face well-known problems of weak balance sheets and slimmer product portfolios. Among them, Winbond is the best situated given its broad product portfolio and relatively decent balance sheet. 
All told, the companies that keep up product development efforts, such as Samsung and Micron, while strengthening their income statements in tandem, will have the greatest opportunity for continued longevity in the years to come, IHS predicts.
Read More > Charting the DRAM Landscape