Intel and AMD to continue battling for market serving notebook and desktop PCs
The year 2011 will be the biggest period yet for graphics-enabled microprocessors (GEM), as the penetration of GEMs reaches approximately 50 percent in notebooks and almost half of desktop shipments this year, according to the latest IHS iSuppli research.
In the notebook PC segment, unit shipments of computers outfitted with GEMs will equal those without them for the first time, erasing the 21 percent lead that the non-graphics-enabled notebook sector had enjoyed in 2010. In the desktop PC space, shipments of computers equipped with GEMs this year will climb by about 10 percentage points from 2010, coming to within 5 points of leveling the field with non-graphics-enabled desktops.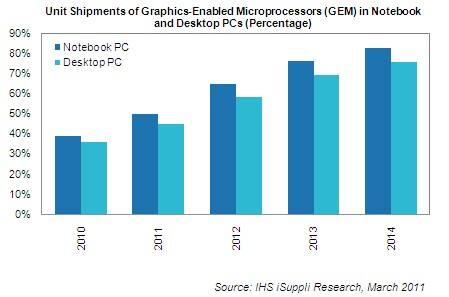 By 2012, nearly 70 percent of all notebook PCs and close to 60 percent of desktop PCs worldwide will ship with GEMs.
GEMs are microprocessors that feature a central processing unit (CPU) as well as a graphics processing unit in a single-chip design, supplementing what is considered the brains of a PC with more graphics capability to run visually intensive applications or tasks. A key functionality is that GEMs be capable of generating the complete graphic output so that no other graphics processor or add-in graphics card is needed.
With computers today serving up ever-richer multimedia experiences, the graphics capabilities of PCs has become more important as well, accentuating the increasing prominence of GEMs.
Intel v. AMD
The two biggest players in the PC microprocessor field, Intel Corp. and Advanced Micro Devices Inc. (AMD), are intensifying their competition in the GEM market 2011, IHS iSuppli research indicates. Intel at the beginning of 2011 was getting ready to launch its second-generation Core processor family known as Sandy Bridge, which  integrates the CPU and graphics processor into one single piece of silicon. AMD, on the other hand, will release five application platforms with five GEM microprocessor categories.
A third player, VIA, caters to different markets with GEM solutions for embedded and industrial applications.
GEMs vs. Discrete Graphic Cards
GEMs are unlikely to offer the same level of performance as discrete graphics cards, IHS believes. Discrete graphics cards will remain the solution of choice for leading-edge graphics, providing high-end performance for applications such as games. In comparison, GEMs could be used to satisfy the needs of the mass PC market that does not require high-level graphics functionality, with the product targeted at the mainstream and value PC segments.
As a result, while some cannibalization of the discrete graphics market will occur because of GEMs, erosion of the discrete market will not be significant in the short to medium term, IHS believes. 
Read More > Compute Platforms: The Rise of Graphics-Enabled Microprocessors
---