Huge recent losses for Japanese semiconductor supplier Elpida Memory Inc., as well as the company's new alliances with Taiwanese suppliers, signal important strategic shifts occurring among companies in the dynamic random access memory (DRAM) space that will alter the industry terrain, according to IHS iSuppli research.
In the final quarter of 2010—the latest date for which full company figures are available—Elpida posted a net loss of 29.6 billion Japanese yen, or $356.3 million, compared to a net profit of 21.05 billion Japanese yen, or $253.4 million, from the same time a year ago. The fourth-quarter figure is also a decline from the profitable previous three quarters of the past year.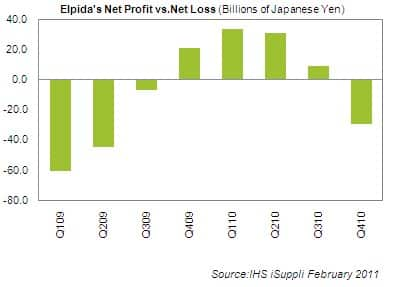 Elpida's results came in lower than expected due to the continued price erosion of commodity PC DRAM. The average selling price (ASP) for 1-gigabyte Double Data Rate 3 (DDR3) chips fell 36 percent during the fourth quarter of 2010. Furthermore, Elpida's financial woes were compounded by inventory write-downs and an appreciation of the yen against the dollar, IHS iSuppli research shows.
The earnings release from Elpida came immediately after an announcement that Taiwan's Powerchip would exit the commodity DRAM business. Powerchip is shifting to a foundry business model, providing DRAM capacity for Elpida as an original equipment manufacturer (OEM). Elpida also has a technology sharing agreement with ProMOS, another Taiwanese company, which would provide Elpida with access to an additional 20,000 wafers in capacity.
Elpida and Taiwan: Closer than Ever, but Who Wins?
While the exact details of the alliances are not clear, what is known is that the resulting DRAM landscape will change to consist of behemoth firms—such as Elpida, third in the DRAM market after South Korea's Samsung Electronics and Hynix Semiconductor—aligning with smaller firms. Such compacts will allow the big companies to hedge against the volatile nature of commodity DRAM while letting them minimize redundancies in capital expenditures, in the process creating a leaner and more consolidated industry altogether, IHS predicts.  
For this case in particular, the alliances represent a much tighter working relationship between Elpida and the Taiwanese DRAM industry, given that more than 50 percent of Elpida's total capacity will come from Powerchip, ProMOS and another Taiwanese-based firm, Rexchip.
In the end, the arrangement will prove positive for Elpida, which stands to gain access to additional capacity without having to make further capital investments. Elpida can focus on higher-margin mobile RAM products, while its foundry partners supply the necessary expertise for manufacturing lower-margin commodity DRAM.
The value proposition of the new alliance, however, is not as clear for Elpida's partners. True, Powerchip will be able to rely on Elpida's sales and marketing network, while ProMOS will gain access to advanced technology without having to invest in research and development on its own. Nonetheless, these expenses traditionally constitute only a small portion of the cost structure of Taiwanese companies, and Elpida's partners still will need to fund their own capital spending for technology migration—not to mention shoulder the high fixed costs of operating a semiconductor fab as they provide capacity for Elpida.
All told, the alliances do little to alleviate the primary concerns of Taiwanese firms relating to burdensome capital spending and the associated debts entailed in the process. And with both Powerchip and ProMOS facing debt payments to come due as their loan extensions run out, much uncertainty ahead will be in store for the DRAM industry, IHS believes.
Read More > Elpida Strengthens Ties with Taiwan—Who Wins and Who Loses?