Despite eschewing traditional rotating media solutions in favor of solid state technology, media tablets pose no serious threat to the dominance of hard disk drives (HDD) in the storage industry for the next three years, according to IHS iSuppli research.
Shipments of mobile PCs using HDDs, including laptops and netbooks, are projected to reach 235 million units in 2011, up 15.2 percent from 204 million last year. In comparison, shipments of tablets will jump to 63 million this year, up from 17 million units in 2010. And although tablets in 2011 are anticipated to grow a phenomenal 270.6 percent, the devices are not close to encroaching on the tightly held space owned by HDDs in the storage industry.
The gap in shipments between the two sectors will narrow somewhat in 2014, but HDDs at that time still will outnumber tablets by nearly a factor of two.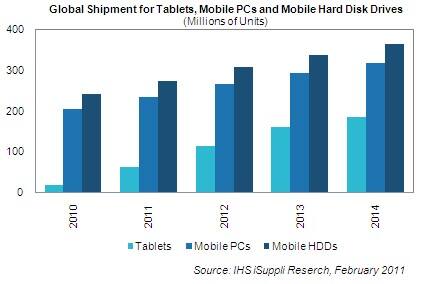 As impressive the shipment numbers for mobile PCs might be, the figures are just a subset of the even larger universe of mobile HDDs that includes the numbers for HDD replacements and spare units, as is the common manufacturing practice for the industry. Like mobile PCs, mobile HDD figures are on the upswing, projected to reach 274 million units in 2011 and surpass 300 million next year, IHS iSuppli research indicates.
Such developments underline the continuing strength of HDDs as a storage medium even in the face of newly popular tablets, epitomized by Apple Inc.'s iPad, along with a host of rival devices expected to proliferate the market this year. In particular, netbooks have faltered of late, and their declining sales against tablets have impacted the overall HDD market.
Just the same, given the tablet's limited storage and productivity capacity, the ability of the device to replace PCs is overstated, IHS believes. And while the forecast for tablet growth is strong, computer storage remains in high demand.
Tablets vs. HDDs in the Future
Going forward, two factors might significantly impact the tablet-HDD equation, tilting the balance in favor of one segment over the other.
While tablets at present are mostly considered a consumption device, the development of creation-based tablets to incorporate PC-like productivity capabilities likely would require more horsepower. This, then, would translate into the need for more expensive flash memory to be installed in tablets, raising their overall costs. Such a scenario would favor the HDD segment, especially if the price of flash memory drops and so-called hybrid drives come to prominence.
A second opposing scenario conceivably could favor tablets. Here, tablets will use the online storage medium known as the cloud, making tablets less expensive to use and increasing their attractiveness, at the expense of traditional devices using hard disk drives.
At any rate, both concepts are years from threatening PC incumbency, IHS believes, which should ensure a vigorous HDD market for some time to come.
Read More > HDDs Safe from Tablet Frenzy for Now