Some prices tumble by half from early this year
DRAM continued to head down a grim path of unstoppable decline in December, as pricing levels plunged to their lowest point of the year after months of dramatic decline, according to market research
?
rm iSuppli, now part of IHS Inc. (NYSE: IHS).
As of December 10, the contract price for a 2-gigabyte (GB) Double Data Rate 3 (DDR3) DRAM module stood at $21.00—down more than 50 percent from $44.40 just six months ago in June. The dive in pricing is not restricted to DDR3 alone: Prices also have plummeted in the previous-generation DDR 2 devices—now at a nadir of $21.50, compared to $38.80 in June.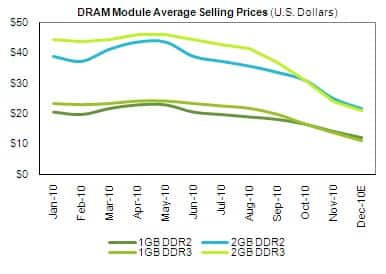 DDR3 has faster transfer speeds and consumes less power than the older DDR2 device type. However, prices have fallen faster for DDR3 than for the other varieties of DRAM because of its high volume, accounting for more than 60 percent of total memory bits shipped during the fourth quarter.
In general, however, DRAM prices have been affected by soft PC demand—especially during the first half of 2010—as well as by greater supply of commodity memory following a solid increase in bit shipments during the second half. That lethal combination of falling demand and growing supply has coalesced to place a great deal of pressure on DRAM ASPs, iSuppli believes.
The decline in prices means that it has become considerably less expensive for PC original equipment manufacturers (OEM) to load machines with more DRAM. DRAM content per PC, which grew by 24 percent in 2010, is forecasted to expand by more than 33 percent in 2011, iSuppli memory forecasts show. And as long as DRAM costs equate to less than 10 percent of the ASP for PCs, manufacturers will continue to increase the memory content in their computers.
Nonetheless, DRAM pricing appears to be reaching critical levels, and nothing is likely to stop prices from continuing their slide in the next six months. In particular, as DDR 3 reaches $1 per gigabyte, DRAM manufacturers operating at the 60-nanometer (nm) process node will start to face the painful economics of costs exceeding prices, iSuppli believes. In 2008 when prices dropped below $1 per gigabyte, manufacturers with lagging process technology were forced to throttle down production.
The dynamic, therefore, that bears watching in the coming months will be how far ahead of costs DRAM companies can stay in order to maintain normal operations. With leading DRAM processing already at the 3x-nm node, working in the older, less efficient 6x-nm and 5x-nm nodes will not be as cost effective during the coming months, incurring higher costs and shrinking margins as a result.
All told, DRAM prices will continue their descent for at least the first half of 2011, with 2GB DDR3 modules dipping to less than $15 by the end of the second quarter. After that, the balance between supply and demand is expected to be more favorable at the end of the second half next year, which then could temporarily slow down or halt the drop in prices.
Read More > DRAM Pricing Continues to Collapse
---