Tablets in 2011 will prove to be a major boon for the dynamic random access memory (DRAM) industry, with DRAM shipments for the devices exploding by a factor of more than nine this year, according to new IHS iSuppli research.
DRAM shipments this year for tablet devices are projected to reach 353.3 million gigabits (Gb), up a staggering 834.7 percent from a mere 37.8 million in 2010. Shipments of the main memory component for tablets show no signs of slowing down in the years to come, surging to 1.0 billion Gb in 2012, to 2.2 billion in 2013 and to 3.5 billion in 2014.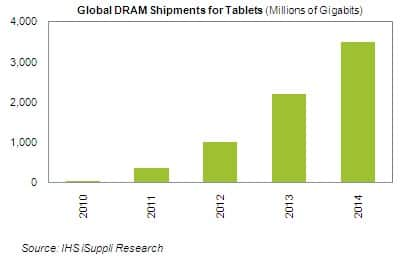 The strength of memory shipments for tablets contrasts with the overall weak performance of the DRAM market, given continually retreating Average Selling Prices that have contributed to lower revenue overall. 
Nonetheless, the DRAM industry is sure to get a boost from tablets, the undisputed stars of this year's recently concluded Consumer Electronics Show (CES) in Las Vegas. At the show, new tablets such as the Xoom from Motorola Inc. and the BlackBerry Playbook from Research in Motion joined recently released rival products made by Samsung Electronics and Dell Inc.—devices all intended to dent the overwhelming lead at present of Apple Inc.'s iPad in the tablet market.
All told, tablet shipments this year are forecast to hit 57.2 million, up from 16.5 million in 2010, and will continue to keep climbing in the next few years, IHS iSuppli research indicates. 
Tablet Challenges for DRAM Suppliers
Despite the heady opportunities presented by tablets for the memory industry, a couple of important concerns related to the device could be in store for DRAM companies.
A first challenge concerns the amount of DRAM used by tablets. Many compelling tablet models shown at this year's CES contained 1 gigabyte (GB) of mobile DRAM—far less than the average 3.2GB of memory used at the end of the fourth quarter in 2010 for PCs—the single largest segment that uses DRAM. Furthermore, while  
the majority of tablets at the show used the more expensive mobile DRAM, there also were tablets running ARM microprocessors utilizing commodity DRAM—potentially a damaging trend for DRAM companies in light of commodity DRAM's lower margins.
A second test revolves on worries that tablets will eat into some PC sales, especially netbooks, which boast similar computing power to tablets. Although netbooks offer the advantage of lower prices, the light weight and long battery life of tablets increase their attractiveness for many consumers. As a result, sales of netbooks stand in serious danger of being cannibalized by tablets, IHS believes.
DRAM for Other Gadgets at CES
In addition to tablets, numerous gadgets and devices, from smart phones to smart cars, were shown at CES that demonstrated heavy reliance on the use of memory—and thus, DRAM.
Several handsets sported dual-core gigahertz processors with a full gigabyte of DRAM—the same specification that was standard only a few years ago for a full-size desktop PC. With more than 11 months left to go before 2011 ends, it appears likely that a phone with more than 1GB of memory will emerge sometime this year.
Also representing a bright spot for DRAM was the EN-V concept car from General Motors. Although the vehicle may not ever be mass-produced, its dependence on both software and hardware requiring memory shows where the DRAM industry might find additional opportunities in the years ahead.
Read More > What Was Hot at CES 2011 and the Implications for DRAM