Companies from all segments of the high-tech world showed off a flood of new media tablets at the 2011 Consumer Electronics Show (CES) in Las Vegas this month, all vying for a slice of the iPad's nearly 90 percent share of the global market.
Wandering the floors of the 2011 CES, it became clear: the age of the tablet is upon us. One could easily lose count of the new tablet offerings at the show. Given the power of the iPad and its dominance in the market—IHS iSuppli research shows that Apple Inc. enjoyed 87.0 percent market share in 2010—it was obvious that virtually every vendor was striving to grab a piece of that pie in any way possible.
From television vendors to network providers, to mobile phone vendors, to PC vendors, and even to some computer monitor vendors, the 2011 tablet field is shaping up to be very crowded, filled with eager competitors and aggressive sales targets.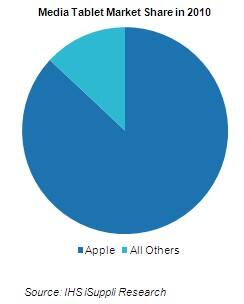 Most of the new offerings at 2011 CES were based on some version of Google's Android operating system, but sprinkled among these devices were some Windows-based tablets and a few using other mobile operating systems. Windows-based units tended to suffer in comparison with the Android tablets—which were generally faster, easier to navigate and less likely to crash. Microsoft Corp. chief executive officer Steve Ballmer dropped hints during his presentation of better things to come with the promise of Windows on a chip and all the benefits that might offer. However, he gave no clear guidelines as to when this product might make its way to system partners and whether it might incorporate a tablet version of Windows Mobile.
Mixed Bag, er, Tablet
The media tablet offerings were decidedly mixed, featuring a confusing gaggle of operating systems, sizes, configurations and touch technologies. With Android 3.0 not yet available, most vendors previewed products sporting an earlier version of the OS—either 2.1, or more commonly 2.2. There also may have been a few versions still sporting Android 1.5 hidden in a couple of the booths at the back.
The most promising rival products that could threaten the iPad's continuing dominance are not yet available. The Motorola Xoom, offering a glimpse of what is to come with Android 3.0—known as Honeycomb—and a sleek 10.1-inch screen with 1,280 by 800 pixels, captured Best of Show and garnered considerable attention. The video-screen shots playing across the high-resolution display showed potential, but the true test will come when users have the chance to actually use the finished product. If Honeycomb lives up to the preview, Motorola can expect  considerable competition, with other vendors likely to jump on board as soon as the new OS is available to them. The Xoom is scheduled for introduction sometime in the first quarter with pricing comparable to the iPad.
Looking beyond Android, Research in Motion (RIM) was able to put into users' hands the BlackBerry Playbook featuring a proprietary QNX operating system, providing a hands-on experience for those willing to work their way to the demo table. While RIM has indicated the product is targeted at enterprise PC customers, the interface— which seamlessly handled multi-tasking transitions—could easily cross over to consumer markets as well. The screen size is considerably smaller than the Motorola Xoom product but easier to carry for those on the move.
Go Tablet, or Go Home
Not all tablets were on the show floor. In fact, many of the more interesting products could be found in the various private rooms at hotels along the Las Vegas strip.
The Vizio Via tablet is a case in point. One of the few 4:3 offerings at the show, the current version uses an older version of Android but is made much more user friendly through a Vizio-designed user interface (UI). Smaller and lighter than the iPad, the Via offered a similar feel to its larger competitor in both product styling and interface structure. Pricing and a release date have yet to be announced.
Contrasting with the Vizio decision to redesign the UI, Toshiba Corp. chose to use the existing Android interface and focus instead on enhancing video-performance features on its new tablet offering. In comparison, ViewSonic Corp. and Lenovo Group opted to give users more options, offering tablets that run both Windows and Android.
In their efforts to achieve differentiation and emerge from the pack of new products, vendors are shuffling design choices and hoping for a winning combination. CES offered a fascinating preview of what's to come from the ones that chose wisely. For the rest, with the right price, you likely can find a customer somewhere.
Learn More > Portable & Desktop Computing Systems are Ready to Feel the Touch