Propelled by robust demand from the enterprise segment, global shipments of storage products including hard disk drives (HDDs) are expected to expand by more than 10 percent in 2011, according to IHS iSuppli research.
Combined shipments of the two major products in the storage industry—HDDs and their rival solid state drives (SSD)—will rise to 547.2 million units in 2011, up 10.9 percent from 493.0 million in 2010. With demand for storage products flourishing because of a reviving global economy, growth across the board will benefit both HDDs and SSDs.
HDDs will continue their primacy in the industry, with shipments in 2011 projected to reach 532.7 million units, up 9.5 percent from 486.1 million units last year. Growth, however, will be much stronger for the rival SSD technology. Although miniscule in comparison to HDDs, SSD shipments will surge by a phenomenal 111.6 percent, hitting 14.6 million units this year.
A third but minor segment comprising Optical Disk Drives (ODD) also will show a healthy rise in shipments, even though revenue growth in 2011 will not be as brisk compared to the two main storage segments—due in large part to the price erosion of Blu-ray and DVD drives in which ODDs are used.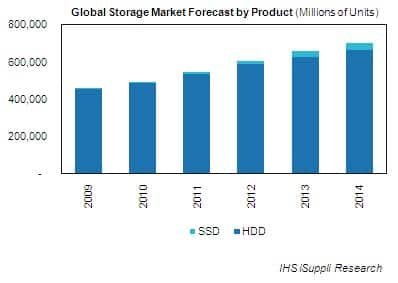 From a consumer perspective, the biggest storage news for the industry last year was the incorporation of SSDs into Apple Inc.'s MacBook Air notebook PCs. The $999 entry point for an 11.6-inch, 64-gigabyte model caused some PC competitors to slash prices on similar SSD-equipped thin notebooks, while the return of more normal average selling prices made the relatively expensive SSDs a more viable option for consumers. As competitors race to develop products similar to the MacBook Air, IHS iSuppli expects solid growth for SSDs in 2011. Dell Inc., in particular, hopes to double its output this year of SSD-equipped notebooks to more than 1 million units.
In the case of HDDs, corporate demand is anticipated to remain strong, driven by factors such as the continuing server refresh—the process of upgrading servers as equipment ages—as well as by the increased adoption of virtualization and the building of cloud-storage infrastructure by the top storage vendors. And despite the rise of tablet devices, HDD use in portable computers will show no signs of letup, IHS iSuppli forecasts indicate.
In particular, the 2.5-inch HDD will gain market share in light of expected higher growth from both the notebook and enterprise segments. With desktop PCs projected to decline in importance from 2011 onward, the 2.5-inch will bypass the 3.5-inch drive starting this year.
HDD supplier Western Digital Corp. will capitalize on its lean infrastructure and supply chain to continue to take market share away from archrival Seagate Technology, even though the latter maintains its lead in terms of revenue.
But with no new disruptive technology to introduce, Seagate could lose more ground—not just to Western Digital but also to other encroaching competitors, such as Samsung Electronics, Toshiba Corp. and Hitachi GST.
Read More > Storage Manufacturers to Enjoy Holiday Boon