Global consumer electronics equipment manufacturing revenue in 2010 is set for a rebound from the downturn of 2009, setting the stage for a sustained rise during the next four years, according to the market research
firm
iSuppli Corp.
With consumer demand acting as the primary engine in propelling growth, overall Original Equipment Manufacturer (OEM) revenue for consumer electronics in 2010 is projected to reach $340.4 billion, up 6.2 percent from $320.7 billion last year. The increase will more than reverse the 4.4 percent decline in 2009.
The market will continue to climb steadily during the next four years, adding revenue ranging from $3 billion to $18 billion yearly, ending up more than $385 billion by 2014.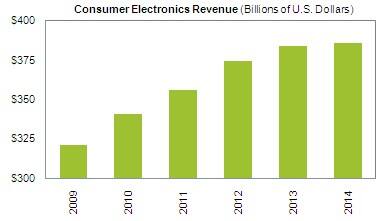 Despite lingering uncertainty regarding the duration of the economic recovery, consumer confidence levels in 2010 are higher in all regions of the world than they were in 2009, suggesting that buyers will be more inclined to acquire new devices or upgrade old electronics equipment—both courses of action needed by the market in order to maintain growth.
Nonetheless, potential trouble could lie ahead, especially if the fragile economic recovery unspools and consumers decide to withhold precious spending dollars, iSuppli warns. Furthermore, inventories of consumer goods are beginning to accumulate, especially in LCD panels and televisions—where oversupply is starting to appear. And although overall unit shipments for electronic devices will keep growing in the years ahead, the continual price erosion that is a hallmark of the consumer market will lead to virtually flat revenue after 2012.
The Strong vs. the Weak
Nearly every segment of the consumer electronics market is up from a year ago, but the strongest performers in the consumer electronics space are LCD-TVs and Blu-ray players.
LCD-TVs will ship more than 178 million units in 2010—up slightly from earlier projections of 177 million units—bringing in revenue worth almost $95 billion, iSuppli data indicate. The growth this year for the superstar segment is not at all surprising: Even in 2009—considered one of the worst years in history for the industry—LCD­TV shipments rose by almost 40 percent.
Also performing solidly are Blu-ray players, whose shipments will reach 16.4 million units this year, up a stratospheric 82.2 percent from 9.1 million units in 2009. Blu-ray player shipments will continue to rise at rates exceeding 50 percent for the next two years, after which expansion will moderate and level off. By 2014, Blu-ray shipments will amount to 68.9 million—nearly eight times their 2009 level.
The long-term picture for Blu-ray, however, may not be quite as optimistic as figures seem to indicate, iSuppli believes. Because other consumer systems such as video game consoles, digital media adaptors and televisions are increasingly able to stream movies and other video content, the need for a physical disc player—even one that plays the highest quality video—might diminish over time, especially as consumers become increasingly accustomed to streaming media. For this reason, iSuppli believes that Blu-ray players will not enjoy the same longevity as their predecessor: the DVD player.
Among the weaker consumer electronics segments, the Portable Media Player (PMP) market in 2010 now is expected to fall short of earlier forecasts, iSuppli research shows. Facing greater competition from other electronic systems like cell phones with multimedia capability, PMPs will suffer declining shipments after what appears to be the market peak for the segment in 2009.
Read More > Consumer Uncertainty May Lead to End-of-Year Letdown for CE