Increase in manufacturing expenses causes apprehension
The cost of manufacturing DRAM increased for the
fi
rst time in nearly four years during the second quarter, raising concerns about production expenses in the memory industry, according to the market research
firm
iSuppli Corp.
The average production cost for DRAM rose to $2.03 per gigabit at the second quarter of 2010, up from $2.00 in the first quarter, iSuppli's memory pricing and forecasts indicate. While the increase represents a mere 1.2 percent upswing, it signifies a major departure from the historical trend, which has seen manufacturing costs decline by an average of 9.2 percent every quarter since the beginning of 2005. The last time DRAM production costs climbed on a sequential basis was in the third quarter of 2006.
The rising production expense in the second quarter comes on top of the fact that the sequential decline in manufacturing cost during the last three quarters has been at lower rate than the long-term average of approximately 1.7 percent. And compared to the previous two quarters—when costs fell by a little more than 3 percent during each period—the trend abruptly reversed course in the recently ended quarter. Using the first quarter of 2010 as the starting point, if costs had followed their downward trajectory according to historical trends, then costs in the second quarter should have been 21 percent lower than they actually were, iSuppli's market intelligence research indicates.
All told, DRAM manufacturing costs have not declined at normal rates in nine months, and there is concern that cost reductions have been bleak during the last three consecutive quarters.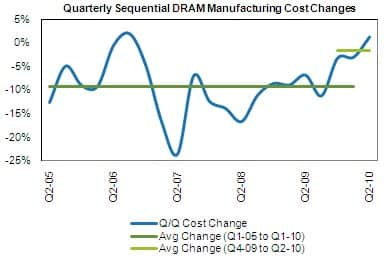 Reason for the Rise: Identifying the Culprits
The rise in DRAM production costs during the second quarter could be traced to the actions of two big players in the field: Taiwan-based Nanya Technology Corp. and Japan's Elpida Memory Inc. Nanya saw its cost climb 4 percent, while the expense for Elpida ballooned by 11 percent.


For its part, Nanya can attribute its current higher costs to difficulties in migrating from an older trench technology to the newer stacked process. Yields have been hurt during this migration, and as a result, cost per bit in production has increased. The trend, iSuppli believes, will quickly reverse once Nanya resolves its DRAM technology yield challenges, and the company's costs then can be expected to decline significantly during the coming quarters.
Elpida, on the other hand, can track its present woes to a change in cost structure after the company increased manufacturing outsourcing to other firms. Elpida in the second quarter purchased DRAM directly from Taiwanese partners at a higher cost than if it had made the product on its own, but Elpida had no other choice because the company was capacity constrained, iSuppli's semiconductor research indicates.
Nonetheless, like Nanya, Elpida's costs will decline going forward as the company sorts out its cost structure. And once the industry on the whole makes other necessary adjustments—especially those related to mastering lessons in semiconductor immersion lithography, needed during migration changes—production costs should decline appreciably, falling in line once again with the long-term average, iSuppli believes. .
Read More > DRAM Manufacturing Costs Increase in Second Quarter
---