In a remarkably rapid ascension, media tablets in 2014 will become the world's fourth-largest application for semiconductors, up from 35th in 2010, rising in just four short years from obscurity to a level rivaling the position of powerhouse chip markets like mobile handsets and PCs, according to the IHS iSuppli Application Market Forecast Tool

 

from information and analytics provider IHS (NYSE: IHS).
Sales of semiconductors for use in media tablets are expected to skyrocket to $18.2 billion in 2014, up from $2.6 billion in 2010, the year that Apple kicked off the market with the introduction of the iPad, as presented in the figure below. In 2014, sales of semiconductors for tablets are expected to be exceeded only by mobile handsets, mobile PCs and desktop PCs. In contrast, media tablet semiconductor sales in 2010 ranked lower than the relatively small-scale applications of workstations, USB flash drives, mobile wireless broadband wireless access devices and flat-panel monitors.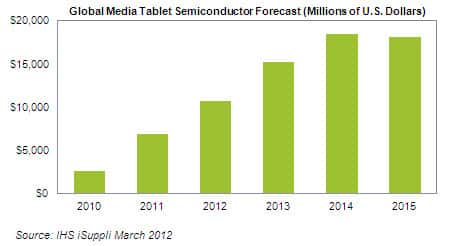 "The speed of the media tablet's rise from near insignificance to top-tier prominence is unprecedented in the history of the global semiconductor industry," said Dale Ford, head of electronics & semiconductor research for IHS. "Driven primarily by Apple's iPad, the media tablet in four years is expected to scale semiconductor heights that took more than a decade for other products to attain, such as notebook PCs and cellphones. This meteoric ascension will have major repercussions for the global semiconductor industry, as it realigns to accommodate the fast growth and vast size of the media tablet market."
Coming up from the No. 35 position in 2010, media tablets rose to become the eighth-largest semiconductor market in 2011. Their ranking will climb to fifth place in 2012, and then rise to fourth in 2014—a position it is set to maintain in 2015.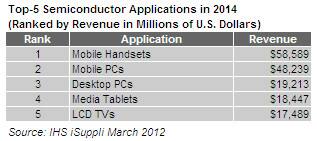 In a parallel development, mobile handsets will become the world's largest semiconductor application in 2012, for the first time ever exceeding mobile PCs as the leading chip segment.
Semiconductor Empires
The rise of tablets as a chip application market could bring significant changes to the semiconductor market, realigning the players and products that shape the industry.
"The rise of specific applications has led to the creation of semiconductor powerhouses in the past—such as the PC microprocessor colossus of Intel Corp. or the cellphone chipset juggernaut of Qualcomm Inc." Ford said. "However, media tablets will generate semiconductor demand that is much more broadly diversified, spreading the opportunity among a wider set of suppliers than previous platforms did."
Beyond yielding vast revenues for application processors, baseband and radio frequency (RF) chips, media tablets also are creating exciting opportunities for the makers of NAND flash and DRAM, wireless integrated circuits, image sensors, microelectromechanical sensors, light-emitting diodes (LEDs) and power management ICs, Ford observed. "So, while there will be a handful of suppliers that will stand out as the leading suppliers of semiconductors for media tablets, there are many component markets that represent highly attractive opportunities for a diverse group of suppliers.  Interestingly enough, media tablets and handsets are a key driving force in reducing some of the consolidation in the semiconductor industry that has developed in more mature markets like PCs."
 Learn More > Consumer Electronics Semiconductors to See Largest Decline in Q4 2011 
---