AT&T in the fourth quarter of 2011 added more video subscribers to its U-verse service than cellular/wireless archrival Verizon did for its FiOS offering, marking the 10th straight quarter that AT&T has exceeded Verizon, according to the IHS Screen Digest U.S. Media Intelligence Service from information and analytics provider IHS (NYSE: IHS).
AT&T added 208,000 U-verse accounts during the final quarter of 2011, resulting in overall new subscribers of 804,000 for the year. In comparison, Verizon saw new FiOS signups of 194,000 in the fourth quarter, leading to 701,000 additional subscribers in 2011.
All told, Verizon—which launched FiOS two quarters ahead of U-verse toward the end of 2004—remained the leader in total subscribers for 2011, at 4.17 million. But although Verizon enjoyed a lead of almost 1 million at the end of 2008, AT&T has been making steady gains in the last two years, gradually cutting Verizon's advantage. With Uverse subscribers at the end of 2011 reaching 3.79 million, the lead enjoyed by FiOS narrowed to just 400,000 TV subscribers.
"U-verse's strong growth relative to FiOS is setting the stage for AT&T to take over the lead from Verizon by a nose at the end of 2013," said Tom Adams, senior principal analyst for U.S. media at IHS.
Ending the year, year-over-year growth for U-verse in 2011 compared with 2010 was up 27 percent, compared with FiOS which was up 20 percent in the same period. IHS estimates that U-verse subscribers at the end of 2013 will total 5.04 million, compared to 5.03 million for FiOS.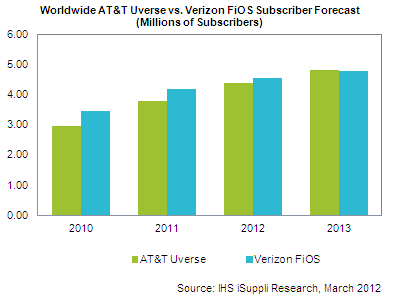 AT&T U-verse and Verizon FiOS both offer purely infrastructure-based pipelines for the delivery of television and entertainment services. The two telco TV firms have entered the U.S. pay-TV fray in the wake of services that were first launched by traditional cable TV systems and direct broadcast satellite providers in the 1990s. Each differs, however, in its utilization of technology in several respects.
For instance, Verizon deploys fiber connections directly to homes, while AT&T uses a combination of existing copper wiring and fiber optic infrastructure to reach residences. Also, Verizon utilizes traditional cable quadrature amplitude modulation (QAM) to deliver linear video feeds, while video-on demand and interactive features such as widgets and the program guide are delivered via Internet Protocol Television (IPTV) technology. U-verse, meanwhile, uses IPTV throughout.
Verizon stakes its reputation on quality although its installation process is laborious and expensive; while AT&T offers faster deployment times and a lower cost to consumers, even though the copper wiring it relies on as part of its solution could be decades old and less stable than the all-fiber solution of Verizon.
As both companies approach the end of network upgrades that allowed them to enter the TV business, AT&T has nearly twice the household reach of Verizon—at 30 million compared to 16.5 million.
Verizon passed an additional 900,000 homes in 2011, but AT&T says it is essentially finished with its U-verse build out and now will concentrate on deepening the penetration of homes passed, something with which the two companies have not had a hard time in the recent past. AT&T notes it has a penetration rate of 16 percent for dwelling units reached overall, but enjoys a larger 25 percent penetration in places where it has been marketing for 36 months or more.
For Verizon, its fourth-quarter numbers likely received a boost from a backlog of 100,000 installations which were incurred after an internal strike was settled in mid-September, along with the resumption of initiatives following an East Coast hurricane that delayed new installations. And although Verizon is predicted to lose its dominance in the space to AT&T by 2013, the company is expected to enjoy continued healthy growth.
Given the strong results, a milestone also may be reached by Verizon in the first quarter of this year if it leaps over Charter Communications to become the sixth-largest multichannel operator in the United States.
Average revenue per unit (ARPU) in the fourth quarter for AT&T U-verse video customers amounted to $84.11, compared to $84.33 per month for Verizon subscribers.
Read More >  IHS Screen Digest U.S. Media Intelligence Service
---