At a major press event this morning, South Korea's LG Electronics unveiled its first large-sized active matrix organic light-emitting diode (AMOLED) television, an ultra-thin, ultra-light model with a 55-inch display. This will position LG to cash in on a fast-growing AMOLED market in the coming years.
Because of the prohibitively high price of AMOLED televisions compared to sets featuring liquid crystal display (LCD) technology, sales of the new AMOLED sets will be limited in 2012, with global shipments expected to amount to only 34,000 units in 2012, according to the IHS iSuppli Display Materials & Systems service. However, as prices decline, the market will soar during the following years. Global shipments will increase to 321,000 in 2013, and then will surge to 935,000 in 2014 and to 2.1 million in 2015, as presented in Figure 1. While these shipments will be tiny compared to the massive LCD TV market, the AMOLED TV space will expand at a robust 155 percent compound annual growth rate from 2010 to 2015, compared to just 7 percent for the LCD TV segment.
LG also announced that Smart TV functionality will be a major emphasis for its LCD sets in 2012. The company announced an upgrade to its Smart TV solution and predicted that half of its U.S. product line this year will integrate this capability, a catch-all phrase to describe the current integration of Internet connectivity and interactive Web 2.0 features to TV sets and devices like set-top boxes. The company also announced it will offer a line of televisions integrating the latest Google TV software, meant to make surfing the Web via a TV set much easier.
LG's strategy will allow it to cash in on the Internet connection boom, one of the biggest trends in the television market in 2012. Worldwide shipments of Internet-enabled televisions (IETVs) in 2012 will soar by 60 percent to 95 million units, up from 60 million in 2011, according to IHS iSuppli Television Systems Service. In contrast, worldwide flat-panel television shipments are set to increase by only 7 percent for the year. The IHS iSuppli global forecast of IETV shipments is presented in Figure 2.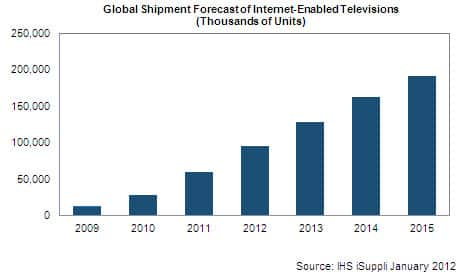 LG announced in 2012 it will focus on passive 3-D LCD-TV technology, which it said has greater consumer appeal than the alternatives based on the more expensive active approach that now dominate the market. Passive 3-D sets are priced considerably lower than active sets, making them more affordable for the consumer mass market. The average U.S. price for a passive 3-D LCD TV in December, 2011 was $1,708, nearly 30 percent less than $2,383 for an active set, according to the IHS iSuppli Television Systems Service. Active 3-D is thought to provide better-quality images, but passive 3-D wins out on price.
Also during the press event, LG announced its Spectrum smartphone, based on the next-generation 4G wireless standard known as Long Term Evolution (LTE). LTE represents the fastest-growing segment of the wireless business in terms of global subscriber growth. Worldwide subscribers to 4G LTE at the end of 2011 numbered an estimated 11.6 million, up a superheated 4,062 percent from just 300,000 in 2010, according to an IHS iSuppli Smartphones & Converged Devices Market Tracker report from IHS. Another round of explosive growth is anticipated for 2012 when the technology increases its subscriber rolls by an impressive 442 percent to hit 62.8 million.
Find Out More > IHS iSuppli Television Systems Service
---