IHS has identified a radio frequency microelectromechanical system (RF MEMS) device in a new Samsung cellphone, marking the first known use of such a part in a volume-shipping product—and sounding the starting gun for an RF MEMS market that is set to grow by a factor of 200 by the year 2015.
Samsung's Focus Flash Windows smartphone includes an RF MEMS device from WiSpry Inc., according to the IHS iSuppli Teardown Service at information and analysis provider IHS (NYSE: IHS).
RF MEMS devices like the WiSpry part can provide a range of benefits in cellphones, including the reduction of signal interruptions and dropped calls, faster data transmission rates and improved design and power efficiency. The Focus Flash has been shipping in the United States since November, 2011. This will pave the way for other cellphones to adopt RF MEMS, causing global sales of such devices to rise to $150 million in 2015, up from just $720,000 in 2011, as presented in the figure below.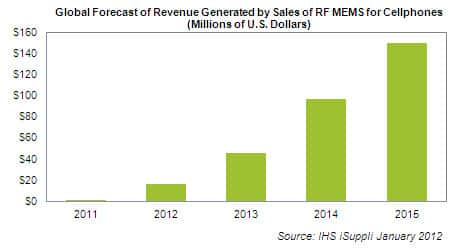 "RF MEMS have been promoted by suppliers as the next big thing in cellphones for nearly a decade," noted Jérémie Bouchaud, senior principal analyst. MEMS and sensors for IHS. "However, although they have been shipping since 2005 in low volume for instrumentation applications, interest among cellphone makers in the use of RF MEMS didn't pick up until mid-2010, when users began to report problems with signal reception with the iPhone 4 after they held the device in certain ways. This so-called "death grip" problem can be alleviated through the use RF MEMS. When combined with the other benefits delivered by RF MEMS, the market for these parts is set for rapid growth in the coming years."
WiSpry inside
The IHS teardown of the Focus Flash revealed a MEMS-based antenna tuning module labeled A2101 in a die‐on‐LGA package near the antenna connectors. The tunable impedance match (TIM) device, as WiSpry calls it, consists of a network of inductors combined with WiSpry's CMOS-integrated, digitally tunable and low‐loss MEMS capacitors. The WiSpry single‐chip design integrates logic circuits/serial interface for control, on‐board high‐voltage charge pump and high-voltage MEMS drivers, together with fully encapsulated digital MEMS capacitors on a single chip.
Tune in, turn on and don't drop out
There are multiple direct benefits of using RF MEMS to tune and match the antenna for the network operators, cellphone makers and users.
Beyond mitigating the signal dropout issue because of the death grip, RF MEMS can improve the antenna efficiency in cellphones, which can increase transmission data rates. For example, in the U.S. long -term evolution (LTE) 4G standard, antenna tuning can boost data rates by as much as 40 percent.
Furthermore, RF MEMS enables cellphones to employ smaller antennas that have the same or greater efficiency than larger ones. This can allow the design of thinner phones.
The improved antenna efficiency also can allow network operators to achieve major savings on the deployment of the new wireless infrastructure, amounting to hundreds of millions of dollars.
You Can Tune an Antenna, but you can't Tuna Fish
Beyond reception issues, a major reason why cellphone makers are adopting RF MEMS is their capability to efficiently implement the proliferating number of standards and rising data usage of cellphones.
In conventional cellphone RF architectures utilized today, multiple standards and functions coexist with multiple RF paths, which are set in parallel. This architecture is not adapted to the evolution of mobile handsets, since it raises the number of components, size and cost, as well as the power consumption of mobile handsets. New, reconfigurable architectures are required to increase the functionality of phones while keeping size, cost and power consumption low.
Several options are in development, including antenna tuning and antenna matching, as well as impedance-matching networks for the power amplifier and tunable filters.
Antenna tuning and matching, which can be achieved with RF MEMS, is the most popular approach today, as it can provides the most significant improvement in terms of sensitivity.
MEMS at Work
With its Samsung design win, WiSpry is leading the RF MEMS pack. However, other companies now are targeting this market, including TDK-EPC, Sony, Omron, RFMD, and the start-ups Cavendish-Kinetics and DelfMEMS.
For more detail, see the IHS iSuppli upcoming special report entitled, H1 2012 "RF MEMS Switches and Varactors" and the imminent teardown report on the Samsung Focus Flash Windows Smartphone.
RF MEMS Alternatives
Beyond RF MEMS, other technologies are being offered for cellphone antenna-tuning applications.
These include:
Paratek Microwave Inc.'s barium strontium titanate (BST) tunable integrated circuits, which have been employed in

Peregrine Semiconductor Corp.'s DuNE antenna tuning devices, based on its silicon-on-sapphire switch technology. These devices have been shipping in one cellphone since December 2011.

Gallium arsenide-based switches and tuners that are being sampled by other vendors.
Learn More > IHS iSuppli MEMS & Sensor Service
---