The prevailing economic uncertainty, along with frantic efforts among television manufacturers to boost year-end sales, combined to drive down the price of U.S. flat-panel TVs to their lowest level in eight months in November.
Average pricing in November for flat-panel TVs, a category consisting of liquid crystal display (LCD) and plasma technology, dipped to $1,113.91, down 3.3 percent from the October level of $1,152.55, according to an IHS iSuppli U.S. TV Price & Specifications Tracker report from information and analysis provider IHS (NYSE: IHS). The November figure reversed the pricing uptick in October, and also was the lowest point seen since the March level of $1,086.64.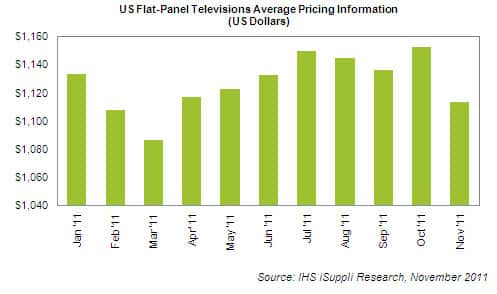 "The November low reflects the usual trend of television prices beginning their descent as the holiday season begins, punctuated by the major discounts seen during Black Friday," said Lisa Hatamiya, research associate for displays at IHS. "This is also the time of sharp price reductions in the channel, with brands eager to move shipments to meet revenue targets and pushing out sets with older features to make way for new models in the coming year."
To be sure, television manufacturers are encountering strong headwinds that also are contributing to price reductions. Television demand in the United States continues to be weak because of the country's staggering unemployment, and consumer confidence has been low in the face of a slow economy.
As a result, competition among manufacturers is extremely cutthroat at this point, exemplified by Black Friday prices that show how low manufacturers are willing to go in order to court the consumer. For instance, Sharp was selling a 42-inch 1080p LCD TV at Best Buy for $200, Hatamiya noted, while a 47-inch 3-D LCD TV with a bundled Blu-ray player from LG Electronics was priced at just $799 at Walmart.
In the LCD category of flat-panel TVs, prices in November were consistent with general trends and fell 2.7 percent on average to $1,020. Compared to October levels, LCD TV prices in November slipped in a range of 1.5 percent to 4.5 percent in almost all categories. The only exception was in the 21- to 29-inch segment, where pricing rose an unexpected 1.5 percent following increased demand for premium-branded TVs in that size class.
Within the LCD group, prices fell more among older LCD TVs featuring cold cathode fluorescent lamp (CCFL) technology, compared to their newer light-emitting diode (LED) counterparts, which sport thinner panels. For instance, 50-inch-and-larger CCFL sets saw a drop of $201, compared to $54 for 40-inch-and-larger LED televisions. The large price reductions in CCFL are consistent with manufacturer goals to clear their inventories of CCFL-type LCD TVs going into 2012, in hopes of focusing greater sales efforts on LED-backlit sets that provide greater margins.
The general retreat in prices also was seen in 3-D LCD TVs, with average pricing in November down to $2,201—a decline of 0.7 percent from October, and 27 percent less than the year-ago level.
Among plasma sets, rival to the LCD technology, average prices were down 4 percent in November to $1,533. Here, brands are expected to continue focusing on 3-D plasma models to keep up revenue and average selling prices, even as the plasma market is gradually being phased out altogether.   
With retailers now at their year-end pricing structure, TV prices are expected to continue their descent in December. This should help boost sales for the fourth quarter, Hatamiya said, compensating for some low points in a year of generally weak TV sales.
Read More > Retailers Slash Prices of Older-Feature TV Models to Boost Q4 Sales
---