Spooked by the sputtering economy, U.S. consumers are choosing to forego television purchases, with the number of Americans planning to buy new sets plunging to record low levels, according to a new
IHS iSuppli U.S. TV Consumer Preference Analysis
report from information and analysis provider IHS (NYSE: IHS).
A survey conducted during the second quarter of 2011 revealed that only 13 percent of U.S. consumers who had not purchased a TV during the past quarter are planning to buy a new set during the next three to 12 months, down sharply from 32 percent in the first quarter.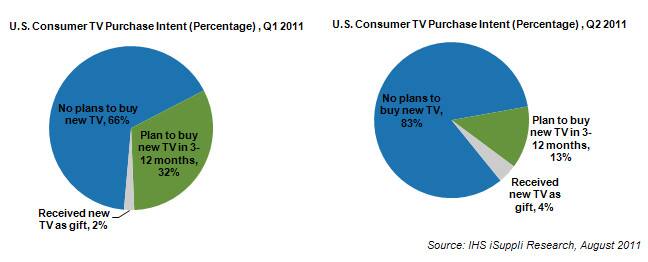 A full 83 percent of respondents said had no intention of buying a new TV set within the next 12 months. This compares to the 66 percent of respondents who said the same during the first quarter, marking the highest negative level of response to the question since IHS iSuppli first posed it to the public in 2010.
The remaining 4 percent in the study represented those who had received televisions as a gift, up from 2 percent in the first quarter.
"The latest survey indicates a tremendous shift in preferences among an increasingly cautious buying public, unnerved by the continuing gloom of the economy," said Riddhi Patel, director for television systems and retail services at IHS. "The findings suggest a growing willingness among U.S. consumers to suspend—if not totally abandon—their ongoing love affair with the television, the primary entertainment device for many American households. A sort of wait-and-see attitude has taken hold—whether it is waiting for the economy to improve, or for television prices to fall some more, or for the arrival of better deals that combine both reduced prices and high-end TV features.
Buyers Vote with their Dollars
Among the ranks of U.S. consumers who recently bought TVs, the most important criteria for purchasing in the second quarter were picture quality, price and screen size. Brand name has become a less important factor in the purchasing decision because of the diminishing price differential between different makes.
Also deemed not critical were newly emergent advanced TV features such as Internet connectivity and light-emitting diode (LED) backlighting, the survey found. Still, LED-backlit TVs accounted for nearly 30 percent of TV purchases in the second quarter, up from 26 percent in the first.
Overall, televisions featuring liquid crystal display (LCD) technology continued to dominate TV purchases during the second quarter—at 86 percent. The rival plasma technology accounted for the remaining market, although plasma sets experienced an increase in overall average pricing as well as favorability ratings, thanks to new models offering larger sizes and advanced features.
In terms of size, a slight increase was detected in buyers going for 50-inch-and-larger sets, but a surprisingly large percentage—up to 38 percent—bought in the under-30-inch range, mainly for reasons of price as retailers offered fewer and smaller discounts in the bigger sizes.
The use of Netflix among households soared to 66 percent for new TVs connected to the Internet, and together with Facebook, YouTube and games, represented the most-accessed applications by consumers.
IHS iSuppli Consumer Preference Analysis Methodology
The results of the latest US TV Consumer Preference Analysis report by IHS iSuppli are based on a survey conducted among more than 45,000 randomly polled U.S. households from a continually refreshed pool of 2 million, with a margin of error at 1.6 percent.
Learn more > Price Gains Put Off Cautious Consumers 
---