Driven by fast growth at Apple Inc., leading Electronics Manufacturing Services (EMS) provider Foxconn Technology Group is set to take more than half of global EMS industry revenue by 2011, up from 44.2 percent in 2009, according to iSuppli Corp.
"Foxconn's customers are some of the hottest companies in the electronics business today, most notably Apple Inc.," said Thomas Dinges, iSuppli associate. "As Apple and others have gained share, so has Foxconn."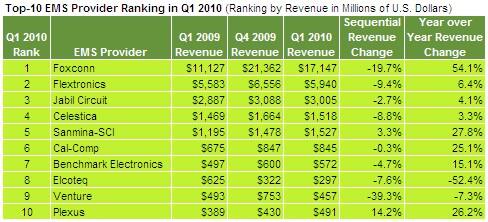 EMS providers are defined as companies whose primary business is the contract manufacturing of electronic products on behalf of Original Equipment Manufacturers, or OEMs.
With revenue of $17.1 billion, Taiwan's Foxconn, aka Hon Hai Precision Industries Ltd., was the dominant EMS provider in the first quarter of 2010, dwarfing No. 2 player Flextronics International Ltd., which posted revenue of $5.9 billion during the same period. Foxconn's revenue in the first quarter surged 54.1 percent from $11.1 billion during the same period in 2009. 
Part of Foxconn's revenue boom is due to the industry wide strength of the digital consumer business and a strong recovery in computing-related products. Moreover, the company dramatically outperformed the 27.5 percent year-over-year revenue increase for the Top 10 EMS providers in the first quarter, reflecting the strength of its customer base.
Apple represents the fastest-growing customer for Foxconn, which manufactures products including the iPad and the iPhone 4.
iSuppli last week noted that Apple had issued increased production targets for the iPad to its Asian suppliers. iSuppli now predicts Apple will ship 12.9 million iPads in 2010, an amount that will nearly triple to reach 36.5 million in 2011.
Meanwhile, global iPhone shipments are expected to rise to 53.5 million in 2011, more than double the 25.1 million in 2009.
To support this massive increase in production, Apple is ratcheting up its semiconductor purchasing. By 2011, Apple will become the world's second-largest purchaser of semiconductors through direct and indirect channels. Indirect channels include purchases through EMS providers, such as Foxconn.
The Fantastic Foxconn
With Foxconn controlling nearly 50 percent of EMS industry revenue, the company's strong performance is driving the overall market. Company revenue increased by 3.4 percent in 2009, while the overall EMS industry contracted by 11.9 percent. Foxconn was the only Top 10 EMS provider to achieve annual growth in 2009.
The only negative for Foxconn is in its gross margin performance. Company gross margins dipped to 8.7 percent in the first quarter, down from 9.5 percent a year ago.
"Margins are a key area for Hon Hai, as the company is working to implement higher wage rates in its large facilities in China, while shifting production over the next several quarters to lower-cost regions in that country," Dinges said.
The company invested heavily in inventory during the first quarter. Company inventory in the first quarter rose $400 million sequentially and was up $900 million compared to last year, in anticipation of strong demand as well as new product launches from customers such as Apple.
Read More, EMS ODM Revenue Growth Remains Healthy as Market Continues to Improve >
---