The decision by three major U.S. wireless carriers to partner with leading credit card companies on a mobile commerce initiative will boost the market for embedded payment technology in cell phones, helping global shipments of handsets with near field communication (NFC) technology to rise to nearly 550 million units by 2015, according to new IHS iSuppli (NYSE: IHS) research.
AT&T, Verizon and T-Mobile this month said they would work with Visa and MasterCard on their Isis joint venture, which was established to form a nationwide infrastructure for NFC-enabled mobile payments using mobile handsets in the United States. The original Isis joint venture announced in November did not include Visa and MasterCard, the largest U.S. credit card companies. Instead, Isis employed Discover Financial Services and the U.S. arm of U.K. bank Barclays to handle the monetary aspects of commercial NFC mobile payments services in the United States.
"By partnering with the dominant players—Visa and MasterCard—the wireless carriers are making the right moves to create an ecosystem that will allow consumers to become comfortable with making NFC payments through their cell phones," said Dr. Jagdish Rebello, director and principal analyst for communications and consumer electronics with IHS. "The carriers hope to leverage the dominant position enjoyed by Visa and MasterCard in credit card payments to ensure a seamless consumer experience when customers use their mobile phones to make payments. Such a move will drive an increase in unit shipments of cell phones with embedded NFC capability in the United States and around the world."
With the participation of Visa and MasterCard, the Isis system will allow consumer credit card information to be securely stored on cell phones, and will use NFC as the communication protocol to facilitate the financial transaction.
Combined with Google Inc.'s continued efforts to promote mobile payment technology in Android smart phones, the changes in the Isis initiative have spurred an upgrade in the IHS iSuppli forecast for global shipments of NFC-equipped cell phones. IHS now predicts 93.2 million NFC-equipped cell phones will ship worldwide in 2011, up from the December forecast of 79.8 million. In 2014, 411.8 million NFC cell phones will ship, compared to 220.1 million in the previous prediction.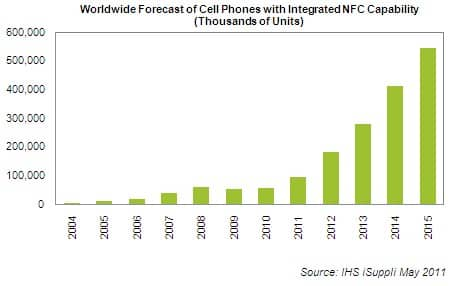 Shipments then will rise to 544.7 million in 2015. This means that 30.5 percent of all cell phones shipped in 2015 will have the capability to conduct mobile commerce using NFC technology.
NFC promises to revolutionize the way consumers pay for goods and services by allowing them to use their cell phones to make purchases. With NFC, consumers can pay their bus fare, buy a plane ticket or make an ATM/credit card purchase simply by holding their cell phones near  wireless terminals.
The starting gun for the rapid growth of the NFC handset market was sounded last year, when Google said it would support the technology in the latest release of the Android operating system and would work to create an ecosystem for NFC payments. With this move, Google made a play for leadership in the mobile commerce segment.
Visa and MasterCard's move to participate in Isis represents an attempt by these big credit card companies to prevent Google from gaining a strong foothold in the market for mobile payments.
With the addition of the major financial firms, the Isis effort is set to gain momentum over the long term. However, Isis is facing some short-term delays while it recalibrates its mobile payment strategy to suit Visa and MasterCard.
Isis on April 4 announced that it will launch an NFC trial in Salt Lake City, Utah, in early 2012. Then on May 4, Isis said it was scaling back its commercial trials of NFC, delaying these programs to the summer of 2012.
Learn More > Mobile & Wireless Communications
---