Although the global electronics contract manufacturing industry is set to return to growth in 2010 after a painful 2009, the market still faces major uncertainties this year, according to iSuppli Corp.
Worldwide revenue generated by the two segments of the contract manufacturing business— i.e., Electronics Manufacturing Services (EMS) providers and Original Design Manufacturers (ODMs)—is set to rise to $280.8 billion in 2010, up 7.8 percent from $260.5 billion in 2009. This follows a 13.4 percent decline in 2009 that was spurred by the global economic recession and the resulting electronics downturn.
Contract manufacturers assemble a variety of electronics goods for both enterprise and consumer brands, from Apple Inc.'s iPhone, iPod and iPad, to Cisco System's routers, to Hewlett-Packard Co.'s PCs.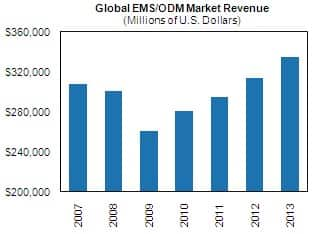 "Things are definitely looking up for the EMS/ODM market in 2010," said Adam Pick, principal analyst for EMS and ODM at iSuppli. "However, we're holding our breath until the second half of 2010 given certain industrial and macroeconomic issues that could inhibit the outsourcing cycle."
On the positive side, orders for the leading EMS and ODM providers are recovering. Senior managers at contract manufacturers are indicating that the typical seasonal downturn in the first quarter will be mitigated by stronger-than-normal demand signals from their OEM customers.
"Fourth-quarter earnings results from major EMS firms Jabil, Sanmina and Plexus came with some bullish guidance for the first quarter," Pick said. "Plus, last quarter, most companies posted improved earnings, enhanced operations and elevated Return On Invested Capital (ROIC) performance."
Despite these gains, Pick doesn't foresee the kind of sharp rebound for the entire contract manufacturing business that some experts are predicting for 2010.
"Some analysts believe the global contract manufacturing business is due for a V-shaped recovery, similar to that of the 2003 to 2005 time frame, when the industry enjoyed a surge in outsourcing.
"However, conditions are different in 2010, with the contract manufacturing market experiencing a dichotomy of growth. ODMs are set for a growth rebound due to their penetration of booming markets like mobile PCs and LCD-TVs. In contrast, with their focus on traditional segments like networking and telecom, some EMS companies are likely to experience slower growth."
Global ODM revenue is set to rise by 10.8 percent in 2010, while the EMS market will expand by only 5.2 percent.
Pick also believes some individual contract manufacturers could face ongoing constraints in particular component supplies, including display panels, optical disc drives and chipsets. The recent shortages have inhibited full-throttle assembly activity among contract manufacturers for the past six months.
At the industrial level, component supply management continues to be a sore spot for OEM procurement teams. iSuppli's primary research suggests that OEMs are continuing their efforts to tighten control of the Bill of Materials (BOM) to minimize purchase-price variance.
At the economic level, Pick expressed concern about high unemployment, waning stimulus efforts and more than a trillion dollars in lingering residential and commercial mortgage resets. These factors could slow or reverse the latest uptick in personal and corporate spending on electronics products made by EMS and ODM providers.
Read More, From Stability To A Growth Dichotomy >
---