Germany's decision to slash subsidies on certain types of solar installations will result in a dramatic demand reduction and price plunge in the country for Photovoltaic (PV) panels and systems in the second quarter, according to iSuppli Corp.
The German government last week preannounced plans to reduce its subsidies (FITs) for new roofs and open-field sites installed after April 2010 by 16 percent and 17 percent, respectively. The final decision is planned within the next 10 days.
This reduction is on top of a just-implemented, pre-planned, Feed-in Tariff (FIT) reduction of 9 percent for smaller rooftops and of 11 percent for large rooftops and ground installations. This announcement is dramatic compared to the 5 percent to 10 percent decrease that had been expected.
"Germany's decision to cut its solar subsidies in the second quarter will make installations less attractive for the country's consumers," said Dr. Henning Wicht, senior director and principal analyst for iSuppli. "Because of this, German consumers will rush to make solar installations in the first quarter and then stop in the second quarter. As a result, iSuppli anticipates the German market will overheat during the first three months of the year and then collapse during the next three months."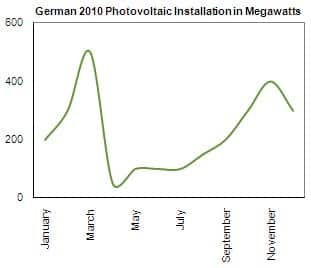 German solar installations will surge during the first quarter, starting at 200 Megawatts (MW) in January and then rising to 300MW in February and 500MW in March. However, installations will plunge to 10MW to 50MW in April and remain at the 100MW level in May and June.
"As a result of the decline in installations, solar system prices in Germany could decline by 7.5 percent from April through the end of 2010, compared to less than the 5 percent normal rate of decline," Wicht said.  
Worldwide Impact
The German government was prompted to reduce its FIT because solar system prices declined more than expected in 2009 due to the country's aggressive subsidies during the year.
With Germany being the world's largest market for solar installations—Germany accounted for 51 percent of global solar system installations in 2009—its FIT reductions could have a worldwide impact. To put the size of Germany's domination into perspective, the second-largest solar nation, Italy, accounted for only 9 percent of global installations.
"The massive oversupply and downturn seen in the global solar cell industry in 2009 was largely due to Spain's decision to change its FIT policies, which led to a collapse in demand," Wicht said. "Germany's move could have similar impact on the global solar market during the second quarter of 2010. However there is a major difference: the German FIT does not limit the size of solar installations, whereas the Spanish FIT restricts installations to 400MW to 500MW per year. Assuming that solar system prices will drop more, installations in Germany will have an opportunity to recover, unlike in Spain."
Q3 Rebound
Conditions in the German market will recover in the third quarter as lower prices lure consumers and as consumers decide to buy before a further FIT reduction in 2010. After holding steady at 100MW in July (which is only one-fourth of the installations forecasted in March), installations will rise steadily until November when they could reach 400MW.
Understanding the Fit
A FIT is a government policy designed to encourage the adoption of renewable energy sources. FITs require electrical utilities to buy electricity generated from renewable sources, such as solar.
Read More, The Business of PV in 2010 >
---