The economic recovery has translated into a sales rebound for the long-suffering NOR-type flash memory market, similar to the momentum the overall memory market is enjoying, according to iSuppli Corp.
Overall NOR revenue in the fourth quarter of 2009 amounted to $1.23 billion, up 0.7 percent from $1.22 billion in the third quarter.
"This marks the third consecutive quarter of sequential growth for the market, after revenue dipped to less than $1 billion during the dismal first three months of 2009," said Michael Yang, senior analyst for memory and storage at iSuppli. "NOR flash revenue in the fourth quarter was boosted by demand from multiple consumer products, including LCD-TVs, cell phones and computers. Demand was so strong that NOR was in a state of shortage for most densities."
However, the fourth-quarter growth was not spread evenly among the NOR suppliers, and there were distinct winners and losers. Specifically, Numonyx and Macronix were the big winners, being the only companies among the Top-5 suppliers to achieve sequential growth in the fourth quarter of 2009.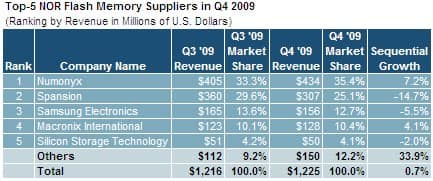 Distancing Itself
Numonyx, which assumed the mantle as the No.-1 provider of NOR flash memory in the third quarter of 2009, cemented its position in the fourth quarter. The company's NOR flash revenue grew to $434 million, up 7.2 percent from $405 million in the third quarter of 2009. More importantly, this resulted in a commanding 35.4 percent share of the total NOR flash market, up from 33.3 percent in the third quarter.
"As Spansion continues to restructure itself after filing for bankruptcy—and moves away from investing heavily in the wireless segment—Numonyx has been able to step in and garner design wins from disaffected former Spansion customers," Yang said. "Obviously, this success is part of the reason companies looked to Numonyx as a possible acquisition target. With a pending acquisition ahead, this should solve the potential problems Numonyx might have had with production capacity issues."
New Powerhouse Emerging?
Macronix also had an excellent fourth quarter, with $128 million in NOR revenue, up 4.1 percent from $123 million in the third quarter. The company was the top beneficiary of the renewed spending on consumer electronics products and PCs.
Macronix has doubled its market share since 2008 to 10.4 percent of the total NOR flash market and continues to find success with its serial NOR products in the embedded space.
The company has a number of serial products in the pipeline that should continue to fuel its profits in the embedded space.
Macronix is seeking to acquire additional manufacturing capabilities to ensure that production can keep up with its success, although nothing has been finalized yet.
Consolidation Ahead?
The industry has been poised to reinvent itself, evident by the recent acquisitions of SST and Numonyx. This spells opportunity for those companies with the right products and strategies to further distance themselves from the pack.
Read More, Momentum Building for Numonyx and Macronix >
---