Following a decline in 2009, China's television market is set for a solid recovery in 2010 despite disappointing sales during the New Year holiday season, according to iSuppli Corp.
Shipments of televisions in the world's most populous country will reach 41.3 million units in 2010, up a robust 11 percent from 37.3 million in 2009. The strong growth projected for this year represents a complete reversal of the situation in 2009, which saw China's television shipments dip by 2 percent from 38 million in 2008. The next four years will continue the positive trend of 2010, with annual growth ranging from about 5 percent to 6.7 percent, iSuppli estimates.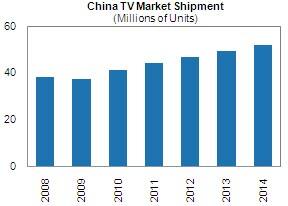 Leading the way in 2010 are LCD-TV shipments, which are estimated to reach about 36 million units, or 87 percent of the total China television market. Reflecting the rest of the world's infatuation with the slim sets, China has been unable to resist the manifold attractions of LCD-TVs. This was evident in the sales spike of more than 70 percent during the Chinese New Year period in January and February, compared to the same time a year ago.
"The strong New Year sales presage a heartening return to health for China's television market," said Kathleen Zhang, a senior analyst for iSuppli's China Research service. "However, the Lunar New Year sales were approximately 15 to 20 percent less than what TV OEMs had hoped for—mainly because of overly aggressive projections."
With factory shipments exceeding demand, inventories of unsold televisions in China at the end of February were about two weeks higher than average, Zhang said. Nonetheless, the inventory situation for LCD panels is manageable.
"Inventory levels for LCD panels remain healthy because the television market is set for high growth in 2010," Zhang added.
Besides LCD-TVs, other television types comprising the China TV market include CRT-TVs, plasma displays and rear-projection TVs. However, shipments of the older CRT sets are declining. Meanwhile, rear-projection televisions largely disappeared from the Chinese market in 2009 due to aggressive competition from LCD sets. Finally, plasma television shipments are set to hover at the 1-million unit per-year level through 2014.
Favorable Conditions Aid Market Rebound
A number of factors will contribute to the resurgence of China's television market in 2010, including official government support, expanding consumer interest and a busy real estate market.
On the part of the government, a new market stimulus program providing a 10 percent subsidy when users replace old appliances is expected to encourage more urban consumers to buy television sets. The program will expand to include even more regions in China by June.
The government's move ties in with the increasingly widespread trend among the populace to replace older-generation sets with new televisions. While consumers in the rural market swap antiquated CRT-TVs with flat-screen models, their urban counterparts are not only replacing flat-panel TVs with newer feature-rich versions, but in many instances also acquiring a second—or even third—flat-screen unit. About 5.5 million LCD-TVs with advanced features such as LED backlighting will ship in 2010—accounting for almost 15 percent of the total China TV market for the year.
A third factor contributing to the growth of China's television market is the continuing boom in the country's real estate market.
"In China, a move to a new house by people often is accompanied by the purchase of a new television," Zhang said. "The large number of move-ins in 2010 will result in an increase in television demand."
Read More, LED-backlit TVs Pave the Way for a Green Future > 
---