Driven by soaring shipments of smart phones, the global market for preloaded applications and other software for cell phones is set to more than double from 2008 to 2014, according to iSuppli Corp.
Preloaded software represents applications that are already included in cell phones when consumers buy them—as opposed to programs later purchased by users. This market will  expand to $7.7 billion in 2014, up from $3.3 billion dollars in 2008. At the same time, shipments of smart phones are set to rise to 497.4 million units in 2014, up from 161.1 million in 2008.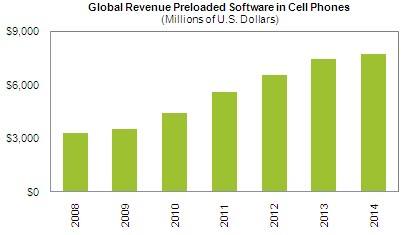 Preloaded software is paid for by OEMs, either by buying it from third parties or by internal development efforts. "For years, the wireless communication industry has evaluated cell phones primarily on the basis of hardware specifications, such as processor speed, connectivity standard, cellular technology, display size, resolution and aesthetic appeal," observed Tina Teng, senior analyst, wireless communications, for iSuppli. "However, with the proliferation of smart phones, attention now is being focused squarely on software and user interfaces, leading to rapidly rising penetration of preloaded applications."
There are three major categories of preloaded applications in general: native applications that come with the mobile platform, carriers' branded applications and third-party applications requested by carriers or OEMs.
The native applications include a growing list of functions like settings, dialer, address book, messaging and multimedia player. The list of carrier-branded applications varies according to the capabilities of the supporting devices and service promotion. With the increasing adoption of data usage, most commonly added third-party software includes browsers, message interface and navigation applications.
The smart phone is the dominant platform for such preloaded software, accounting for 68.4 percent of revenue in 2014, up from 48.6 percent in 2008. However, preloaded software is found in all types of cell phones, including feature phones, entry-level phones and Ultra Low Cost Handsets (ULCHs).
"iSuppli expects the average number of paid or internal developed preloaded software in mobile phones will at least double by 2014," Teng said. "As the smart phone becomes a portal to the cloud computing service, security anti-theft issues will be more prominent and trigger the penetration of backup software in the preload package.
Despite the growth of the overall market, iSuppli expects growth in preloaded games will be minimal during the next five years since both operators and device OEMs are directing applications sales to app stores.
---