With its purchase of Hitachi Global Storage Technologies (Hitachi GST), Western Digital Corp. (WDC) will pad its lead in the global HDD market, giving it nearly double the market share of No. 2 supplier Seagate Technology LLC. With the purchase, WDC will claim 49.6 percent share of global Hard Disk Drive (HDD) unit shipments based on fourth-quarter totals, compared to 29.4 percent for Seagate. This will give WDC a lead of 20.2 percentage points over Seagate, up from a mere 2 points without the acquisition.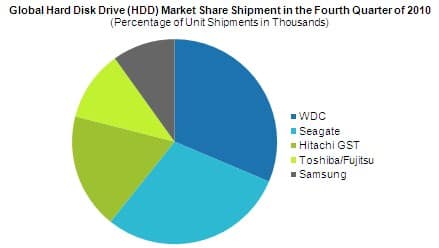 The Hitachi purchase will allow WDC to enter the critical enterprise HDD segment. WDC currently is only a marginal player in the enterprise HDD market, with nearly all of its sales going instead to the market for consumer drives, an area that includes products like desktop and mobile PCs, set-top boxes and video game consoles. Of all of the major HDD suppliers, Western Digital in the fourth quarter of 2010 had the smallest share of any company's total shipments going to the enterprise segment, at less than 1 percent. In comparison, 65 percent of Seagate's HDD shipments and 27 percent of Hitachi GST's shipments went to the enterprise market.
"The enterprise HDD market garners significantly higher margins than the consumer segment, which makes the enterprise a fast-growing market for HDD revenue," said Zhang. "To date, WDC has largely been absent from the enterprise segment. However, Hitachi GST brings WDC the essential technology, product portfolio and experience required to compete in the enterprise segment." Hitachi GST offers both 3.5-inch and 2.5-inch HDDs with SATA and SAS interfaces, which are used extensively in the enterprise segment. The company has wide-ranging experience in this area, giving it the kind of track record required to win the confidence of enterprise customers, Zhang noted.
The WDC acquisition also may be a consequence of declining sales in the HDD market. HDD shipments in the first quarter of 2011 are anticipated to reach 160.9 million units, down 3.9 percent from 167.5 million in the fourth quarter of 2010. Shipments are being impacted by the rising sales of tablets, which don't use HDDs and are cutting into the shipments of mobile PCs, a major market for hard drives. Other factors are affecting HDD sales as well, such as declining PC shipments in all major markets due to the growing use of cloud storage. Amid weaker industry conditions, organic sales growth is more difficult to achieve, prompting HDD suppliers to engage in acquisitions to gain market share.
Learn More > Storage Market: Storage Manufacturers to Enjoy Holiday Boon
---