Driven by booming sales among Asian OEMs, global PC shipments surged by 22.7 percent in the first quarter, marking the highest year-over-year growth ever recorded by iSuppli Corp.
Shipments in the first quarter totaled 81.5 million units, up from 66.5 million during the same period in 2009.
"The first three months of 2010 delivered the highest quarterly PC shipment growth on a year-over-year basis since iSuppli began tracking the market in 2003," said Matthew Wilkins, principal analyst for compute platforms at iSuppli. "This record growth resulted from strong sales in the first quarter of 2010 combined with weak conditions during the first three months of 2009. Early 2009 represented one of the weakest periods in the history of the PC market, as consumer and corporate demand plunged due to the economic downturn. With economic conditions improving, PC sales rebounded in early 2010." 
Asian Boom
The strongest year-over-year growth among the Top 10 OEMs was posted by Asian OEMs ASUSTeK Computer Inc., Samsung Electronics Co. Ltd., Lenovo Group Ltd. and Acer Inc.
No. 6-ranked ASUSTeK of Taiwan led the way, with its shipments booming by 136.2 percent compared to the first quarter of 2009. South Korea's Samsung, in eighth place, posted the second-best performance, with its shipments rising by a whopping 83.9 percent. Fourth-ranked Lenovo of China achieved the third-highest results, with its shipments increasing by 58.5 percent.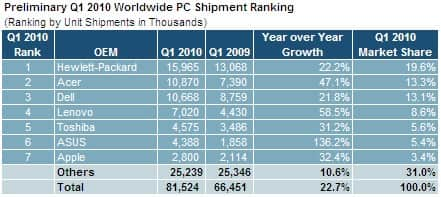 Acer Closes Ggap with Hewlett-Packard
No. 2-ranked Acer of Taiwan posted the fourth-best results among the Top 10 PC OEMs, with its shipments rising by 47.1 percent on a year-over-year basis. This gave Acer a 13.3 percent share of the global market, up from 11.1 percent a year earlier. Acer's strong results allowed it to close its market share gap with leading PC OEM Hewlett-Packard Co. to just 6.3 percentage points in the first quarter, down from 8.5 points a year earlier.
"While Hewlett-Packard retained its position at the top of the PC pile, Acer is advancing at an impressive rate," Wilkins added. Acer continues to benefit from its focus on notebooks, which represent the fastest-growing segment of the PC market. Notebooks accounted for nearly 80 percent of Acer's PC shipments in the first quarter. The company's success is built upon its strong product lines for both regular notebooks and netbooks—as well as its limited exposure to the slow-growth desktop segment.
Beyond Acer's product strategy, the company's success reflects the general rise of Asian OEMs in the global PC market.
"The rise of Asian OEMs at the expense of longtime U.S. leaders like Hewlett-Packard and Dell Inc. represents a historic shift in the PC market," Wilkins observed. "The rise of the Chinese consumer economy along with Asia's increasing dominance in electronics manufacturing is spurring a fundamental shift in regional balance of power in the PC market."
Hewlett-Packard and former No. 2 PC OEM Dell slightly underperformed the market, with their shipments rising by 22.2 and 21.8 percent, respectively, from a year earlier. 
Apple Shines
The one U.S. PC OEM that managed to outperform the PC market in the first quarter was No. 7-ranked Apple Inc., whose shipments rose by 32.4 percent from a year earlier.
"Apple's Macintosh line is benefitting from the halo effect of the enormous popularity of its iPhones and iPads," Wilkins said.
Desktop Decline Discontinues
The desktop PC market in the first quarter achieved year-on-year growth for the first time on a quarterly basis since the second quarter of 2008. However, shipments grew by only a scant 1 percent. In contrast, notebook shipments increased by 26.5 percent, driving stronger-than-expected overall growth for the PC market.
"PC shipments in the first quarter of 2010 beat iSuppli's outlook due to surprisingly strong notebook shipments, combined with robust increases in notebooks," Wilkins added.
iSuppli's latest worldwide PC forecast calls for unit shipment growth of 17 percent in 2010, with increased demand for notebooks but flat growth for the desktop segment.
---