Google Inc. is expected to prevail in a key battleground for its wireless war with Apple Inc., as the smart phone market share of the Android Operating System (OS) rises to surpass that of the iPhone's iOS in 2012, iSuppli Corp. predicts.
Android will be used in 75 million smart phones by 2012, up from 5 million in 2009. Meanwhile, iOS usage will amount to 62 million in 2012, up from 25 million in 2009.
This will give Android a 19.4 percent of the global market for smart phone OSes in 2012, up from 2.7 percent in 2009. Apple's iOS for the iPhone will see its share rise to 15.9 percent in 2012, up from 13.8 percent in 2009. In 2014, Android's share of global smart phone OS usage will rise to 22.8 percent, while iOS will decline to 15.3 percent.
"Android is taking the smart phone market by storm," said Tina Teng, senior analyst, wireless communications, for iSuppli. "The OS started with entry level models in 2008, but the flexibility Android offers for hardware designs and its appealing business model in terms of revenue sharing have attracted vigorous support from all nodes in the value chain, including makers of high-end smart phone models. Cell phone OEMs representing all tiers of the industry have committed to support Android, including Motorola, Samsung, Sony Ericsson, LG, Huawei, AsusTek and ZTE. This broad industry support will allow the Android OS's usage and market share to exceed that of its chief rival—iOS—in 2012, just five years after its introduction."
While Apple's family of iPhone products continues to be the standard by which all other smart phones are measured, the proprietary nature of the iOS and Apple's closed system business model will limit the number of smart phones with the operating system.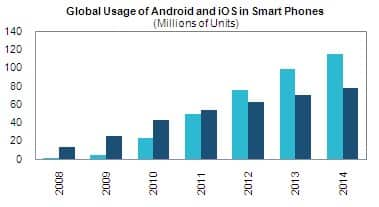 War Over Wireless Hegemony
Google and Apple are engaged in a fierce battle for control of the wireless market, which represents the most lucrative growth opportunity in the technology world today. Both companies have their eyes on the huge revenue growth expected in wireless data.
iSuppli predicts that global carrier revenue for wireless data services, excluding messaging but including data access fees, will grow to approximately $250 billion by 2014, up from $108.6 billion in 2009.
However, the size of the over-the-top mobile broadband revenue from premium content, services, applications and advertising, a market that is in its infancy today, could exceed $100 billion in 2014. This is the area that players like Apple and Google are attempting to target.
But both these companies are adopting very different business models to unlock value in the mobile broadband value chain, according to Jagdish Rebello PhD, senior director and principal analyst at iSuppli.
"While Google is trying hard to capture market share in the smart phone market, Apple's strategy is aimed at making its products highly desirable but not necessarily affordable for the mass market," Rebello said. "Apple has been successful in doing this with its friendly User Interface (UI), its slick OS and its well developed ecosystem of apps and content providers." The Google/Apple wireless battle extends from the smart phone sales race between the iPhone and Droid lines, to the applications front with Apple's App Store and Google's Apps Marketplace, to the advertising battle between Apple's iAd and Google's AdMob and to a range of location based services that both are trying hard to develop and monetize. The market share competition between Android and iOS represents a central front in this fight.
Battle for the Planet of the Apps
In the smart phone industry, mobile applications, multimedia content and sleek user interfaces are the key attributes driving device sales. Apple's mastery of these items allowed its share of global smart phones to rapidly rise to double-digit percentages.
In the applications area, Apple's booming iPhone sales have been fueled by the more than 200,000 items in the company's App Store. The Android Marketplace is the closest competitor to Apple's App Store, but it is only has one quarter of the number of applications as the Apple App Store. However, that total is rising rapidly, allowing Android to close the gap with its more established rival.
Read More, Smart Phones Become Multifunctional with Preloaded Software >
---