Matching the robust and thriving electronics industry in China, semiconductor distributors in the country are expected to enjoy nearly 30 percent growth in 2010, according to the market research firm iSuppli Corp.
With sales in 2010 up 28.5 percent to $33.1 billion, distributors will account for 51 percent share of semiconductor sales in the world's most populous country. Direct sales from semiconductor suppliers, on the other hand, will make up the remainder—at about $31.7 billion—or 49 percent.
Overall, China's semiconductor sales from both distributors and chip suppliers are projected to reach $64.8 billion in 2010, up a remarkable 30 percent from $49.5 billion in 2009. The two channels in 2011 will be virtually tied at $35.4 billion each.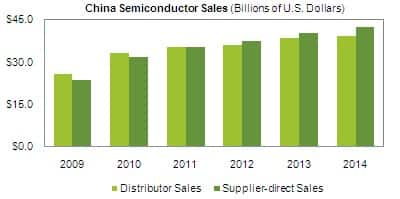 Mergers and Acquisitions Serve as Important Growth Tool
"Distributors were strong in the memory, logic and analog component markets in 2009," said Horse Liu, manager for China research at iSuppli Corp. "Distributors also acquired more sensor components business in the industrial electronics and surveillance markets. Semiconductor suppliers, in comparison, continued to implement direct-sales strategies in core chip markets, such as Microprocessor Units (MPU) and Digital Signal Processors (DSP). Among the biggest distributors, mergers and acquisitions have become a favorite tool during the last five years as a means to grow quickly, iSuppli research has determined."
World Peace Conquers the Market
Following the trend, Taiwanese-based distributor World Peace Group (WPG) Holdings has vaulted to a dominant position in China as well as in the rest of Asia. WPG's March acquisition of fellow Taiwanese firm Yosun Industrial Group added to the conglomerate's total China revenue of approximately $3.8 billion in 2009.
WPG's continuing efforts to strengthen its role throughout Asia may yet displace New York-based Arrow Electronics from its perch as the world's largest electronics component distributor. Arrow's worldwide electronic component sales in 2009 amounted to $9.75 billion, but WPG is closing the gap fast at $9.57 billion, iSuppli's China market figures show. In third place is Arizona-based Avnet Inc., with $9.18 billion. In China, WPG is first, followed by Avnet and Arrow.
The leading global distributors are expected to continue their M&A strategy within the electronic component space in China. The acquisition targets will be the local Chinese distributors, which so far have been exhibiting healthy growth and excellent product resources. To develop business in new markets, the leading distributors are hoping to obtain core product resources from the locals—as exemplified by Texas Instruments tapping Beijing-based SEED Electronic Technology Ltd. to be a distributor in the DSP market.
Suppliers Win in the End
Despite the rapid growth enjoyed by distributors at present, semiconductor suppliers in 2012 will begin to take increasing control of the distribution process and start accounting for a bigger portion of semiconductor sales, iSuppli China research indicates. Already, suppliers are implementing strategies intended to reduce their reliance on distributors.
For their part, distributors are thought to be coping currently with a number of challenges, including component shortages, lengthening lead times, rising product costs and complex market conditions.
Read More > Distributor Mergers and Acquisitions Prepare Semiconductor Supply Chain for Rebalancing
---