China
's Three Networks Convergence project is driving the expansion of the country's cable Set-Top Box (STB) market, with shipments set to rise by nearly 25 percent in 2010, according to the market research firm iSuppli Corp.
China's domestic unit shipments of cable STBs will amount to 25.1 million units in 2010, up 24.8 percent from 20.1 million in 2009. The second quarter is expected to generate the strongest growth of the year, as provincial cable television operators accelerated their subscriber additions and small carriers pushed the migration of customers from analog to digital service. The cable STB market grew to 6.8 million units in the second quarter of 2010, up 34 percent from 5 million during the same period in 2009.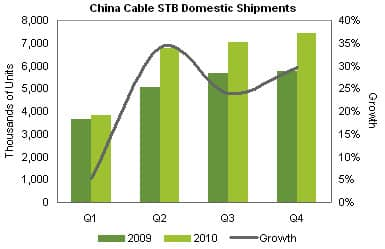 "China's Three Networks Convergence project is intended to integrate the country's telecom, broadcasting, and Internet networks," said Horse Liu, manager for China research at iSuppli. "The project is enabling players in all three industries to offer triple-play services, i.e. communications, television broadcast and Internet access, spurring competition among the various businesses. This spurring a major increase in the nation's cable subscribers and STB shipments."
China's State Administration of Radio, Film and Television (SARFT) plans to establish a single national cable television network company this year in order to compete with telecom carriers. China presently has a fragmented cable market, with more than 100 cable operators and in excess of 3,000 television broadcast entities.
Furthermore, provincial governments are pushing for mergers among larger cable TV firms in order to create more robust players to compete with telecom and Internet industries.
China's cable digital television operators also want to increase their Average Revenue Per User (ARPU) by providing subscribers with more services including Video On Demand. More than 75 percent of domestic cable STBs shipped in the second quarter can support interactive functions, such as VOD.
The leading cable STB makers are producing interactive products in order to improve their profit margins. For example, more than 95 percent of cable STBs made by Chinese manufacturer Coship in the second quarter supported interactivity. This in turn benefitted Coship's STB semiconductor supplier, Broadcom Corp. of the United States.
However, rising cable STB sales in China will yield major opportunities for domestic semiconductor suppliers as well.
After approximately five years development, local core semiconductor designers such as HiSilicon Technologies Co. Ltd and Huaya Microelectronics Inc. became mainstream suppliers in the domestic cable STB market this year. HiSilicon potentially could take a 10 percent share of China's cable STB core silicon market in 2010 because of its success in establishing relationships with carriers.
---