In the latest twist in the battle between Vizio Inc. and Samsung Electronics Co. Ltd. for leadership in the U.S. television market, Vizio managed to retake the No. 1 rank in LCD TV shipments, while Samsung maintained the top position in overall flat-panel sets, according to the display market research firm iSuppli Corp, now part of IHS Inc. (NYSE: IHS).
Vizio in the third quarter shipped 1.6 million LCD TVs, up 14.9 percent from 1.4 million in the second quarter. This gave the U.S. LCD TV maker a 19.9 percent share, allowing it to surpass Samsung, to take the No. 1 rank. Samsung's shipments declined by a slight 1.5 percent in the third quarter, leaving it with it a 17.7 percent share.
However, Samsung held onto its first-place position in U.S. shipments of overall flat-panel televisions, a category consisting of LCD TVs and plasma sets. The South Korean technology giant shipped 1.82 million flat-panel sets in the third quarter, up 0.2 percent from 1.81 million in the second quarter. This gave Samsung a 19.3 percent share of shipments, enough to maintain the No. 1 rank over Vizio.
Vizio's Evolution
"Vizio in the third quarter managed to retake leadership in the U.S. LCD TV market based on strong shipments of sets equipped with LED backlighting," said Riddhi Patel, principal analyst, television systems, for iSuppli. "Consumer demand is rising rapidly for LED-backlit LCD TVs because of their thinner form factors, improved picture quality, better color saturation, lower power consumption and other green attributes—along their with declining prices. This allowed Vizio to increase its LCD TV sales by 208,000 units in the third quarter compared to the second."
Vizio's competitiveness in the LED backlit television market reflect how much the company has evolved from its beginnings as a low-end LCD TV seller. LED backlighting represents a premium feature, not associated with inexpensive LCD TVs.
"Vizio can no longer be called a value LCD TV brand and now is a direct competitor with premium sellers, including Samsung," Patel observed.
The last time Vizio held the top rank for LCD TV shipments was in the fourth quarter of 2009.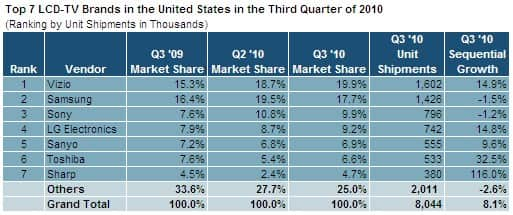 Samsung Leverages Breadth
Samsung in the third quarter capitalized on its broad product line to hold on to U.S. flat panel leadership. Along with its LCD TV line, Samsung is a major seller of plasma sets. The company achieved a 7.2 percent increase in plasma set shipments, more than compensating for its LCD TV decline.
Overall plasma TV shipments in the United States increased in the third quarter compared to the second because of renewed consumer interest due to aggressive pricing. Also, consumers are showing interest in the 50-inch and larger plasma TVs from premium brands that boast of features like built-in Internet connections and full HD resolution at lower prices than comparable LCD-TVs.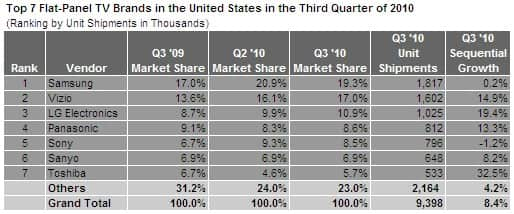 A Mixed LCD TV Bag in Q3
U.S. LCD TV shipments expanded in on a sequential basis in the third quarter as a range of compelling new models arrived on the market. Shipments amounted to 8.04 million units, up 8.1 percent from 7.4 million in the second quarter.
However, in a worrying sign for the U.S. LCD TV market in 2010, shipments declined slightly compared to 8.09 million units in the third quarter of 2009.
"Sales promotions in the third quarter did not offer very aggressive price cuts, because pricing already was at low levels," Patel said. "This kept shipment levels flat compared to a year earlier, and contributed to a buildup of LCD TV inventory among retailers."
Read More > Can Price Declines Jumpstart Consumer TV Purchases in U.S.? 
---