Ignited by support from key wireless players Nokia Corp. and Google Inc., global usage of near field communication (NFC) technology in cell phones is expected to begin an explosive growth phase starting next year, paving the way
for a boom in the mobile payments business, according to the market research firm iSuppli, now part of IHS Inc. (NYSE: IHS).
Worldwide shipments of cell phones with built-in NFC capability will rise to 220.1 million units in 2014, up by a factor of four from 52.6 million in 2010. In 2014, 13 percent of cell phones shipped will integrate NFC, up from 4.1 percent in 2010.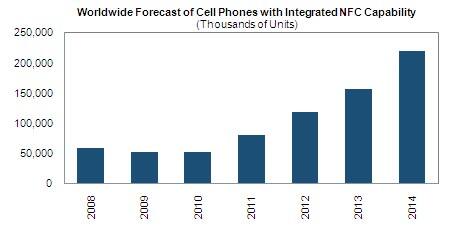 NFC is a short-range wireless connectivity technology based on magnetic field induction. It is intended primarily for intuitive, simple and secure communications between two electronic devices in close proximity to each other—a perfect fit for mobile payment applications.
"Imagine paying your bus fare, buying a plane ticket or making an ATM/credit card purchase simply by holding your cell phone near a wireless terminal," said Jagdish Rebello, director and principal analyst for communications and consumer electronics with iSuppli. "This is the mobile payment revolution on the verge of being unleashed by NFC technology. With NFC technology expected to be integrated into Nokia's cell phones and Google's Android operating system, the first shots of this revolution will be fired next year."
NFC Infrastructure
Leading cell phone brand Nokia said it will support NFC in all new smart phone models introduced in 2011.
Google has announced support for NFC in Android 2.3, set for release this week.
Furthermore, after two years of discussions, the three largest U.S. mobile phone carriers—AT&T Wireless, Verizon Wireless and T-Mobile—have launched a joint venture known as ISIS that will develop a mobile payment system based on NFC. While ISIS is initially working with Barclaycard U.S. and Discover Financial Services, the carriers said they are open to collaborating with any bank or credit card company that would like to use the platform.
ISIS within the next 18 months hopes to have NFC-enabled cell phones sold by the three carriers and an NFC ecosystem in place in some regions of the United States, with a full nationwide rollout slated to be accomplished by 2013.
"iSuppli believes that 2012 will be the make-or-break year for NFC," Rebello said. "With all the ongoing and planned NFC trials in different regions of the world—as well as support for the technology by major stakeholders, including wireless operators, financial institutions and banks—it is imperative that business models be established that allow each of the nodes to see value in offering the service.
NFC Technology
Beyond mobile payments in cell phones, NFC enables a range of other functions.
NFC chips are compatible with contactless smart cards. Devices that are NFC enabled can be used as access devices for secure facilities, such as office buildings and gated apartments. They also can work as information retrieval devices—allowing applications including the exchange of electronic business cards and the downloading of information from NFC-enabled posters. Furthermore, NFC can perform authentication features, initiating setup for other forms of wireless communication, such as Bluetooth or Wi-Fi.
Learn More > Mobile & Wireless Communications
---