Amid a more than 50 percent boom in sales and constrained production in 2010, China is facing allocation and lead time extensions for certain power metal–oxide semiconductor field-effect transistors (MOSFETs)
from major suppliers such as Infineon Technologies, STMicroelectronics and Fairchild Semiconductor, according to new IHS iSuppli research. 
The power MOSFET market in China will expand to $2.4 billion in 2010, up 53 percent from $1.6 billion in 2009.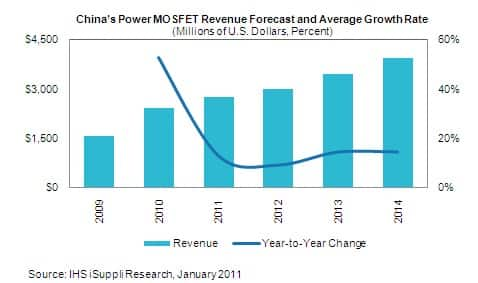 "IHS iSuppli research indicates shortages and long lead times will continue throughout the remainder of 2010 as suppliers work to bring newly installed capacity online," said Alex Liu, analyst for China research at IHS. "Furthermore, the tight supply situation for certain MOSFET types and packages now is expected to last until well into 2011."
Revenue Sources for Power MOSFETs
The main sources of revenue for the power MOSFET market in 2009 come from three segments: data processing, which accounts for 41 percent of revenue; consumer electronics, with 25 percent; and communications, with 23 percent.
The communications industry, consisting of both the wired and wireless segments, will generate $617 million in power MOSFET revenue in 2010, up from $365 million in 2009, as the government continues to lend support and operators maintain investments in new communication networks. In comparison, consumer electronics will account for $570 million in power MOSFET revenue in 2010.
For its part, the automotive market is expected to generate $101 million in power MOSFET revenue in 2010, up 64 percent from 2009.
The majority of power MOSFET revenue comes from low-voltage MOSFETs, as the number of low-voltage applications usually rises with the number of processors or others loads used in data processing and communication equipment. Accounting for 51 percent of the market in 2009, low-voltage MOSFETs will continue to hold the leading share position in 2011, IHS iSuppli research shows.
Given the strong power MOSFET demand for most of 2010, sales growth will have slowed in the fourth quarter and then will hit bottom in the first quarter of 2011; moderate sales growth will return during the remainder of 2011. IHS iSuppli research indictates the entire MOSFET market will experience 20 percent compound annual growth rate (CAGR) from 2009 to 2014.
Read More > Power MOSFETs in China Witness Rapid Revenue Growth in Expanding Market 
---