Shipments of large-sized Liquid Crystal Display (LCD) panels vastly exceeded end-market sales of televisions, monitors and notebook PCs in the first half, spurring a major buildup of inventory of the LCDs and finished products, including LCD-TVs, according to electronic display research firm iSuppli Corp.
A total of 46.8 million LCD-TV panels shipped in the first quarter of 2010. However, although LCD-TV set shipments equaled only 37.5 million units—an overage of 24.5 percent, iSuppli's electronic display industry analysis indicates. In the second quarter, large-sized LCD-TV panel shipments grew to 52.0 million units, but actual set shipments amounted to only 38.7 million units. This gap of 36.4 percent, higher than anything seen in 2009, has pushed the market to further levels of oversupply, especially in the face of an uncertain outlook in the second half of 2010.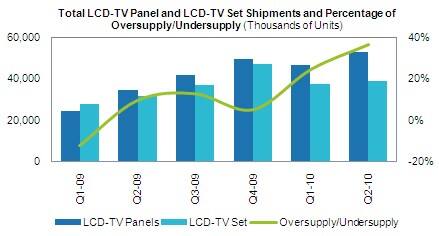 "Coming amid fears of a slowing economy and the possibility of a double-dip recession, the inventory increases in the LCD TV retail channel are raising concerns throughout the display supply chain—from panel suppliers to contract manufacturers and brands, to retailers," said Sweta Dash, senior director for LCD research at iSuppli. "The oversupply situation was exacerbated by a significant cut in orders in July from LCD panel buyers. While the large-sized LCD panel market was already in oversupply for most of the second quarter of 2010, the order cuts in July pushed the market further into oversupply as inventories expanded to even higher levels. The oversupply has persisted during the first two months of the third quarter as buyers cut orders in July and August."
Inventory levels for both suppliers and buyers have caused a ripple effect on pricing as large-sized LCD panel pricing dropped again in July, taking some panels down to the manufacturing cost level. In August, prices dropped another 4.4 percent because of the continuous inventory adjustment, with a further decline expected in September. Some low-priced panels were already reaching the cash cost level—and the oversupply situation is not helping matters, electronic display research firm iSuppli indicates. These developments have prompted a series of production cuts by some panel suppliers in order to bring panel supply and demand back to balance.
Although pricing for the LCD-TV sets themselves surged upward in July in the United States, prices are likely to have declined in August and will do so again in September, as brands and retailers have to become aggressive once again with their promotions in the upcoming months in order to fuel demand. iSuppli believes.
For their part, LCD-TV brands are slashing production targets and inventory levels in the third quarter, putting mounting pressure on panel suppliers to further reduce prices in order to move the inventory.
However, because many of their production facilities are fully depreciated, panel suppliers face diminished cost pressure and are able to reduce output more aggressively to control supply. Room for further price reductions is limited, especially for notebook and monitor panels because they already are close to cost. Some television panel pricing is also near the cost level, and panel suppliers are unable to slash production too much due to higher depreciation costs at newer-generation fabs.
Inventory levels at both suppliers and buyers are expected to remain an issue in September. Panel price pressure also will remain high. Nonetheless, severe cuts in panel production in August and September will help to mitigate the oversupply situation by the end of September.
---